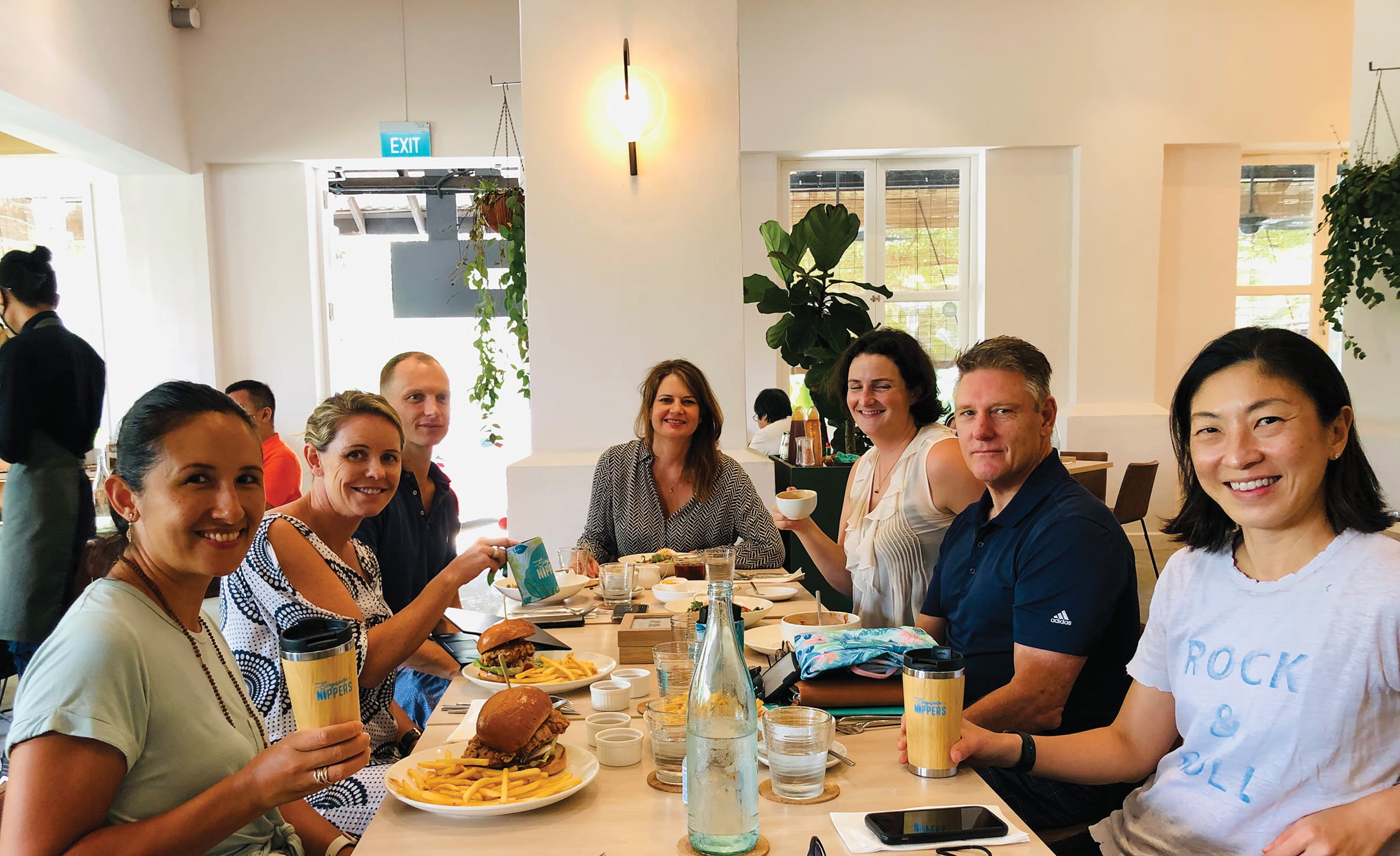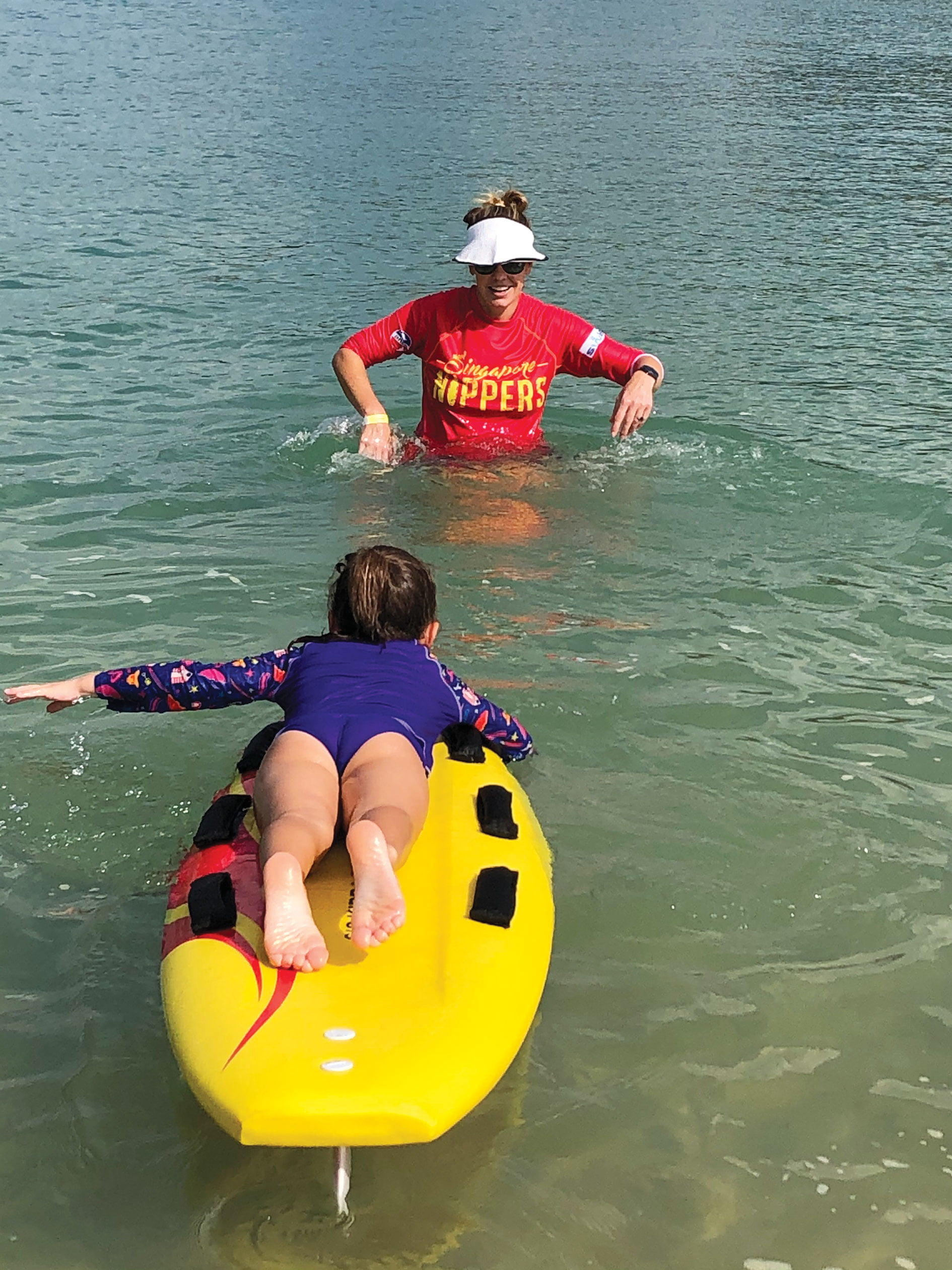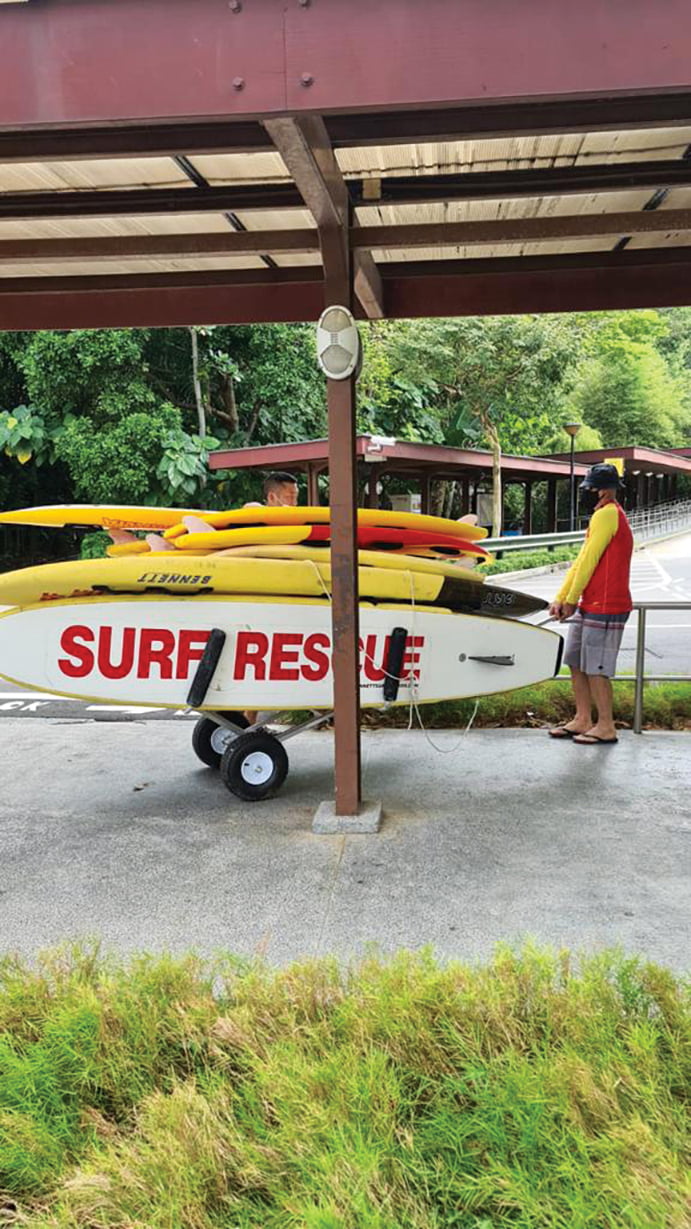 Mitch Board
This will be our fourth year of ANZA Nippers. We originally joined as I wanted to provide our kids, who have never lived in Australia, some of the experiences I had growing up. It also helped that it starts at a nice time on Sunday morning – everything else in Singapore tends to open at 11am! We could give the kids a great day out and still get them back home to beat the heat.
I was quickly wrapped up into Nippers to support the founders, Alex and Skye, and the rest of the team who did an amazing job building it from scratch. Being part of the committee as well as an Age Manager, (plus various other functions) has been extremely rewarding, particularly after you see the kids having a great time on the beach on Sunday mornings.
We have also been fortunate enough to forge some amazing friendships and create incredible experiences. It is a very social activity during normal times, and we will be strengthening the community aspect as soon as MOH guidelines allow.
Steph Condon
Originally, I'm from Ocean Grove in Victoria. I grew up surfing and had very little to do with the local surf club. However, after moving to Singapore three years ago, via Hong Kong, I wanted my son to have a little piece of home. We joined ANZA Nippers and I initially volunteered as Secretary, but as Nippers were short of Age Managers, I found myself leading the U7 group this year. Contrary to popular belief, you don't need to be a lifesaver to lead the age groups. We leave that important skill to our certified Bronze Medallion holders. So far, it's been a great experience leading the kids – they're so enthusiastic and such good sports when it comes to participating in races, either in the water or out. Although I really look forward to when restrictions lift so we can involve more parents and engage with other groups.
Jaq Molloy
Our family has been living in Singapore since 2014. Although I am Singaporean by birth, I lived in Sydney for 16 years, where I met my husband while discovering the surf and beach culture. We saw a bunch of kids in ANZA Nippers rashies one morning at Tanjong Beach and enthusiastically enquired about it… the rest is history! We joined in 2018 when Olivia, our eldest daughter turned six. Fast forward to 2021, she is now in the U9 group while Brigitte, my youngest has started in the U6 group.
I volunteer my time as an Age Manager for the U6 group, teaching them beach and ocean awareness. I'm also the voluntary Events Manager, which involves organising parent social nights, year-end celebrations, volunteer appreciation nights and educational sessions around ocean conservation and beach awareness.
As the Events Manager I work with multiple organisations and very closely with Guardians of the Sea, the conservation arm of Resorts World Sentosa on many occasions. One of the highlights of this role was when our Nipper kids participated in the Ocean Heroes Bootcamp by creating a marketing campaign to ban single use plastic. We competed in this global competition to celebrate World Oceans Day in 2019. Our kids learnt a great deal from this experience and although we didn't win, it was an unforgettable experience for us all.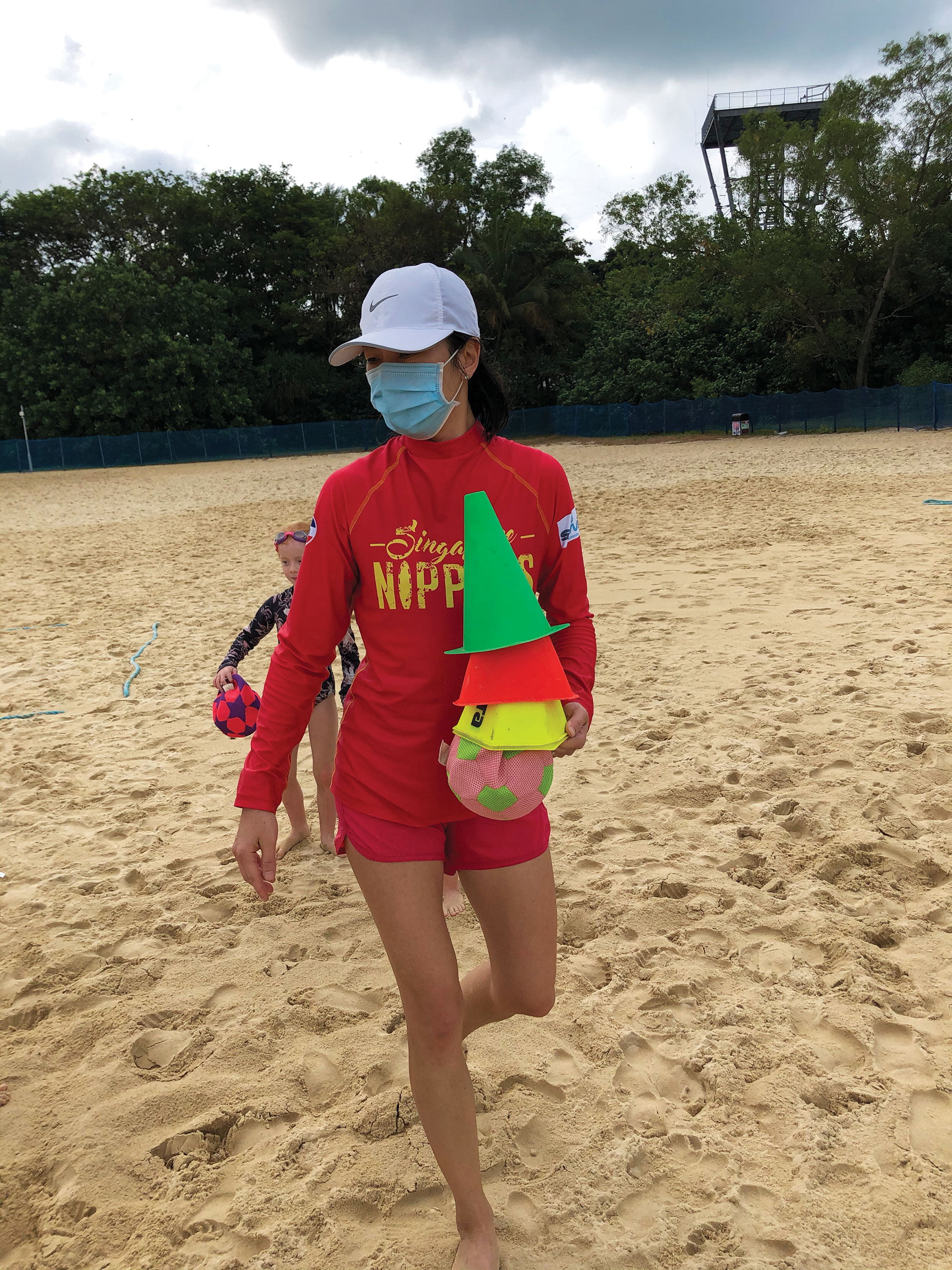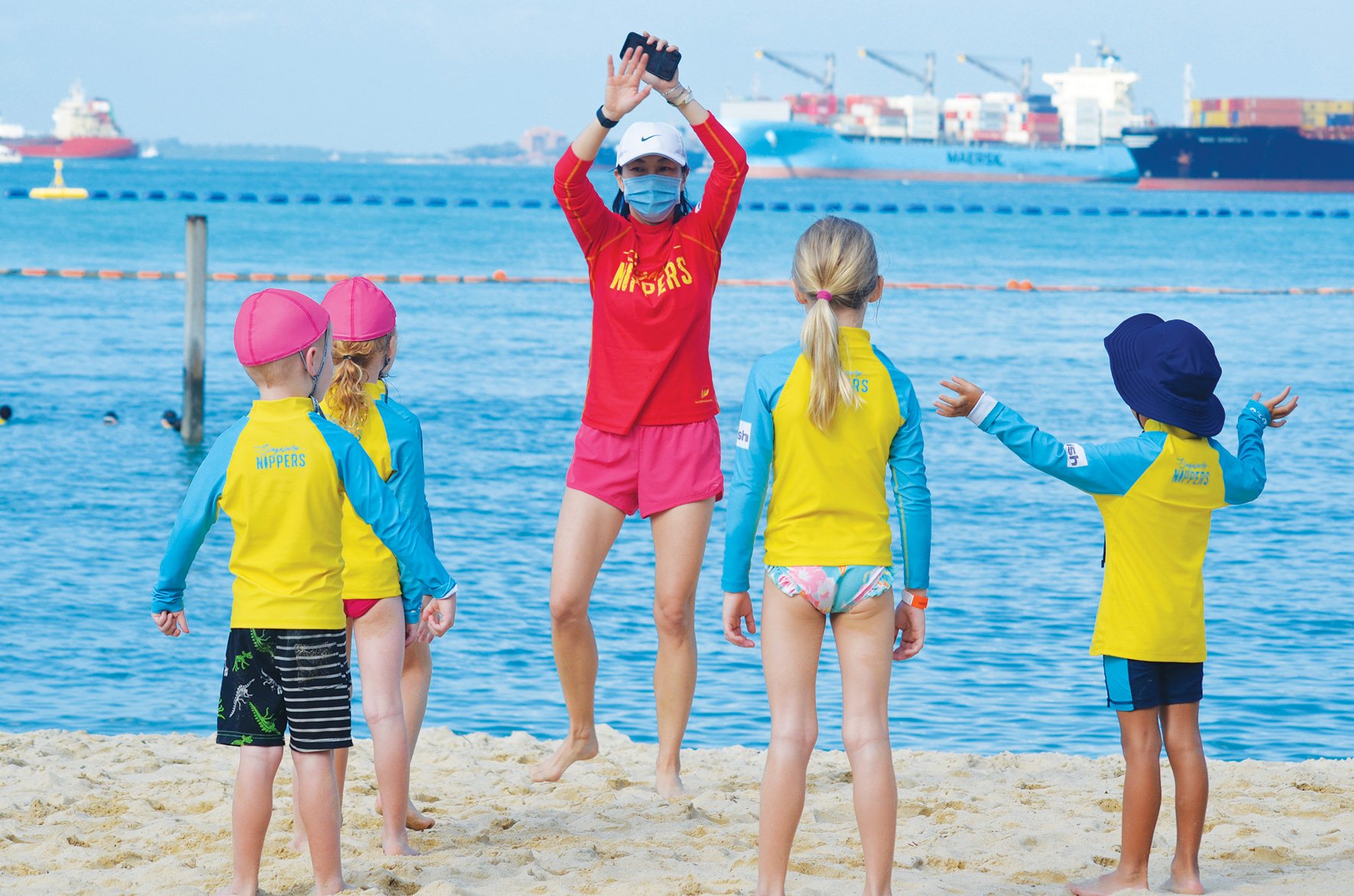 ANZA Singapore Nippers is a not-for-profit volunteer group where children aged 5-13 participate in fun activities at Palawan Beach to learn essential ocean and swimming skills. Stay up to date with ANZA Singapore Nippers news at anza.org.sg/sports/nippers or by following our Instagram @sgnippers or Facebook page @SingaporeNippers