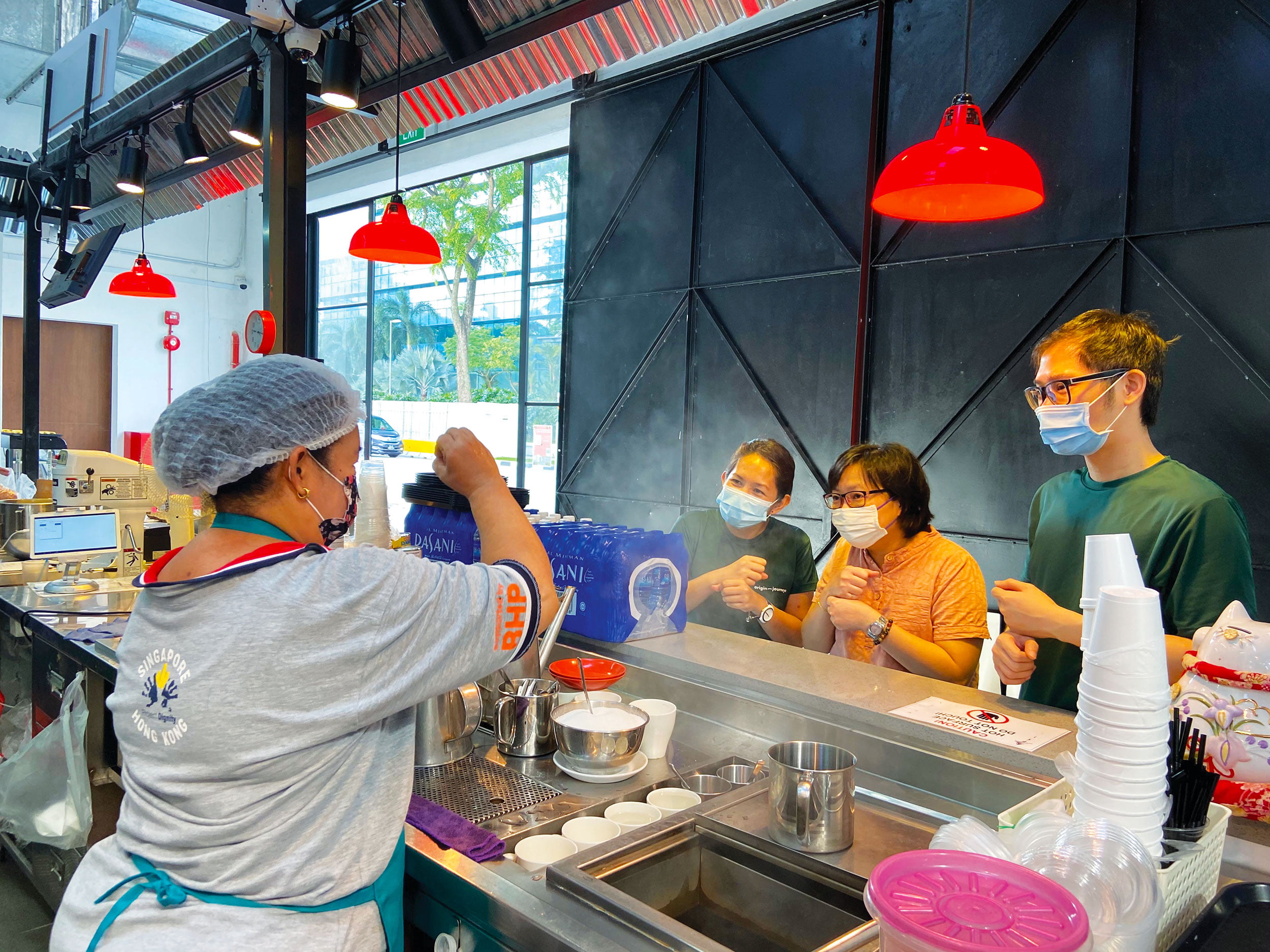 What is Project Dignity?
Established in 2010, Project Dignity is an all-in-one platform to engage in social good through local food. Our mission is to restore dignity to the disabled and disadvantaged through skills training and job placement (Dignity Learn), employment (Dignity Kitchen and Dignity Mama) and integration (Dignity Outreach). Part of our award-winning social enterprise, Dignity Kitchen is the world's first and only ISO22000-certified food court run by differently-abled stall managers. 
Our focus is on Singapore hawker culture (recently listed as a UNESCO intangible cultural heritage). Dignity Kitchen opened in Hong Kong in December 2019, bringing our street food to an international arena.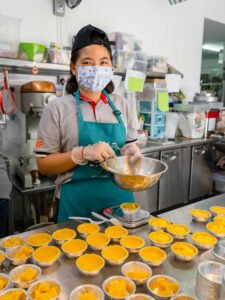 What does Project Dignity offer?
Since starting with three humble stalls in Balestier Road, we have organised over 2,000 lunch treats and delivered to a wide range of organisations – from SMEs to Fortune500 companies. During the recent COVID-19 Circuit Breaker period we received contributions from generous corporates and individuals to provide 800-1000 Bento meals daily to frontline healthcare workers at five hospitals and subsequently to more than 25 elderly nursing homes throughout Singapore. We are now located at our own building at 69 Boon Keng Road, with nine stalls, a training and production kitchen, classrooms and an events space.​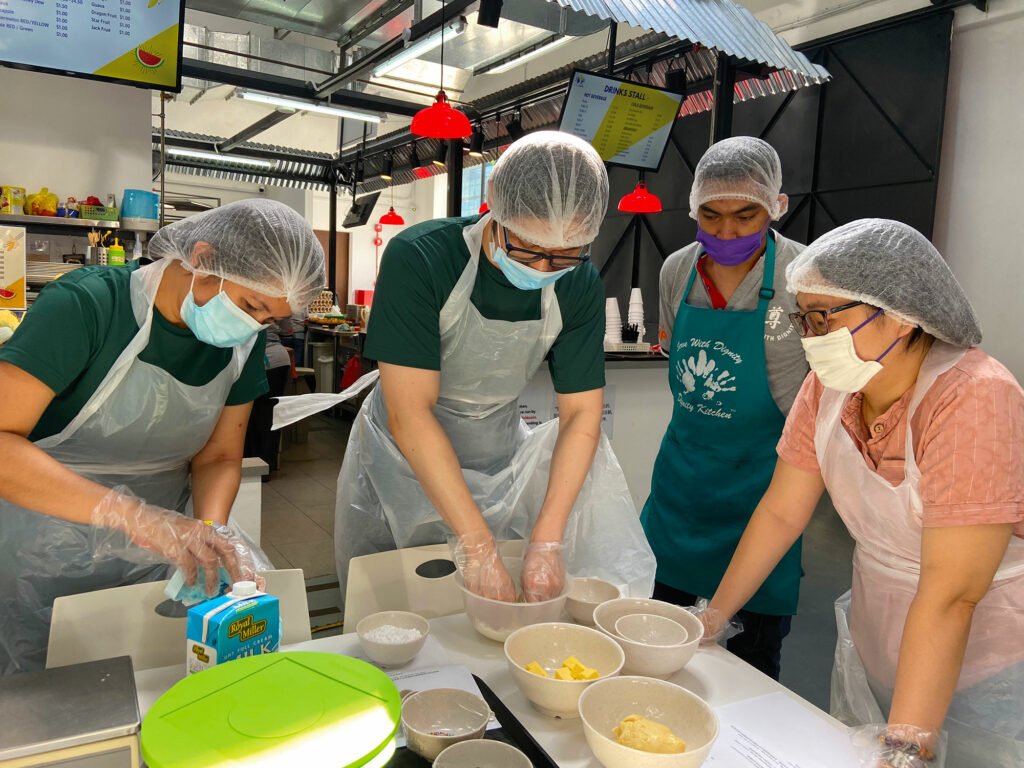 How do you work with people with disabilities?
Currently 60% of our staff at Dignity Kitchen are Persons with Disabilities. We teach our trainees the basics of food safety and hygiene, preparing ingredients, interacting with guests, and processing payments.
Our trainees undergo a structured vocational F&B training programme, some of whom are on the Autism Disorder Spectrum, or they have polio, cerebral palsy or depression. Trainees are also paid a daily allowance throughout the programme. Upon graduation, we prepare them for interviews with our employment and industry partners. Some go on to work for us at Dignity Kitchen and Dignity Mama.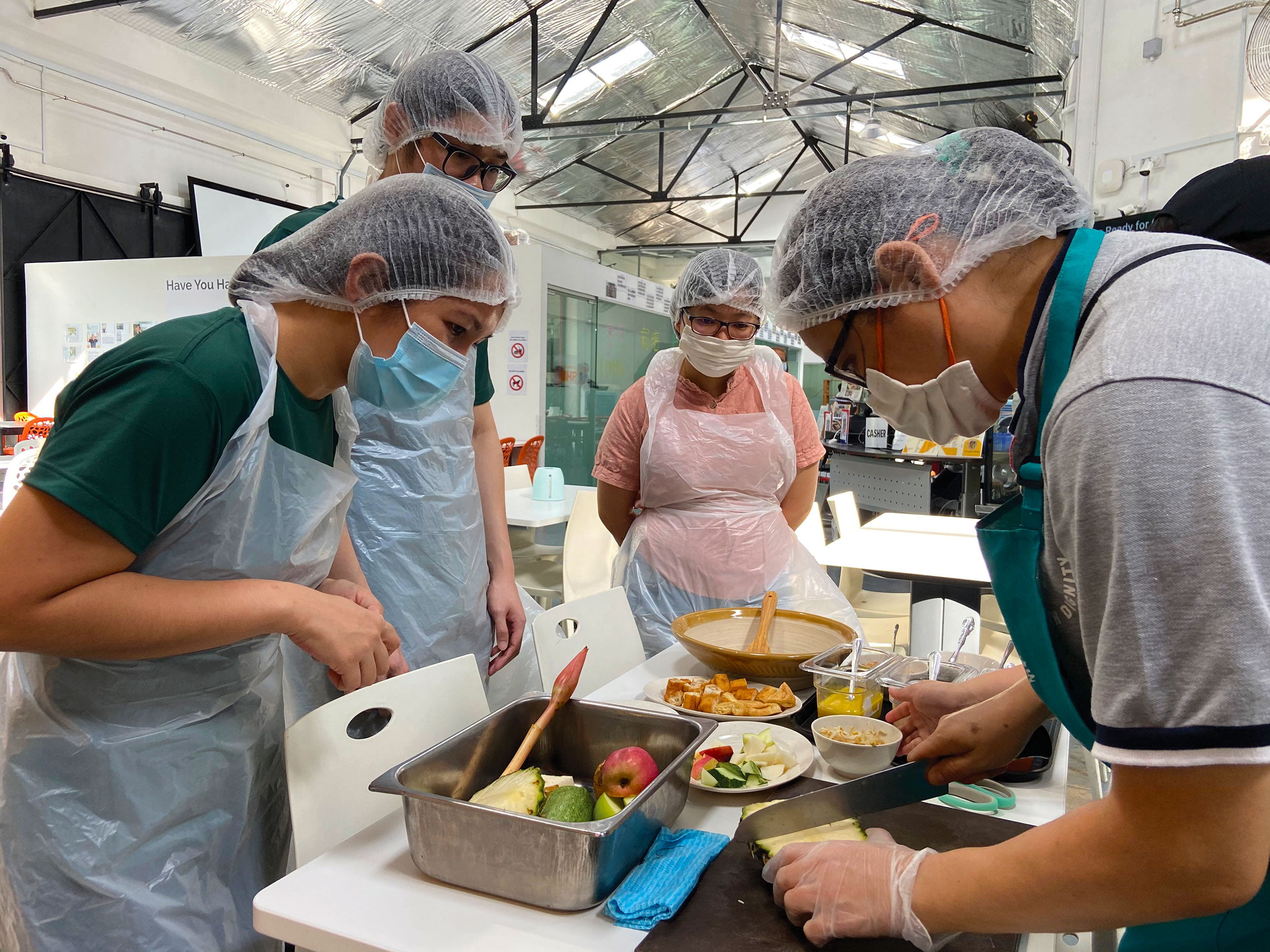 Our team of Trainers are Certified in Training and Assessment and come with years of experience in the F&B industry. They are passionate about imparting not just basic culinary skills, but also life skills to our trainees.
Dignity Learn is the division that conducts the training programmes and classes for both special needs and able-bodied members of the public.  
What is Dignity Mama?
Dignity Mama is our secondhand retail book shop. Currently we have kiosks in four hospitals, with another pushcart scheduled to begin operating in July 2021. Dignity Mama presently employs nine teams of young adults and their supportive caregivers to run the kiosks. This enables young adults with disabilities to gain basic entrepreneurial skills and lead independent lives.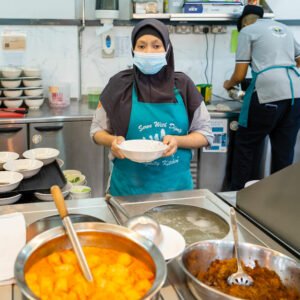 Do you have any new projects?
A new initiative that began in mid-May is the Dignity on Wheels delivery service.  Food orders for hawker fare and bakery items will be delivered by staff who use wheelchairs to within 1km of our premises.
Also in the pipeline is the Dignity AI project which will enable paraplegic individuals to work from home by using a remote-controlled robot. These robots can be used in hospitals, shopping centres and food courts, with the differently-abled using AI to answer queries or address immediate customer needs.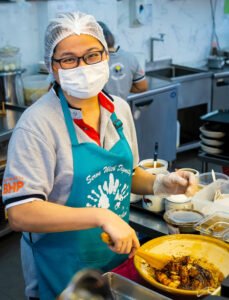 What's Project Dignity's mission?
We want every person who walks out of our training centre to project a sense of dignity through earning an honest living. We empower them with skills, employment and most of all, the opportunity to be a productive member of society. This is the reason we are set up as a business entity with a social mission, instead of a charitable foundation. 
How can ANZA members offer their support?
By ordering Bento Hawker Fare or Bakery Items from our Dignity Kitchen or contributing to our Meal Treats as part of our Social Outreach Programmes for needy families. Also, by supporting our Dignity Mama book stalls which have a range of good condition secondhand books as well as handicrafts. 
Project Dignity
69 Boon Keng Road 339772
projectdignity.sg