Luke's Lobster
lukeslobster.sg
To commemorate its anniversary, Luke's Lobster is joining forces for a "Luke Goes Local" series with three homegrown chefs from Thevar, Birds of a Feather, and Fatfuku. Each chef will create an exclusive iteration of the brand's signature Lobster Roll that reflects their culinary domain and inspiration. These creations will combine this beloved Maine classic with the many familiar flavours that Singapore loves.
We kicked off our tasting with the first collaboration: Thevar's Curry Aioli Lobster Roll (S$30.50). Chef Mano's modern approach to traditional Indian ingredients transformed an uncomplicated Lobster Roll into a complex and rich explosion of flavours without losing the delicate essence of the lobster.  The lobster claw and knuckle meat are tossed in a wonderful combination of Xec Xec spices, roasted coconut chutney and shellfish oil before being wedged on buttered split-top buns with a swipe of curry aioli. The Lobster is topped with fried shallots, a brunoise of onions, tomatoes, green chilli, and coriander. Each bite is filled with punchy spices and smokiness that captures Chef Mano Thevar's vision of Indian cuisine. Of course, we had to accompany this roll with the corresponding Curry Aioli Curly Fries ($9.50).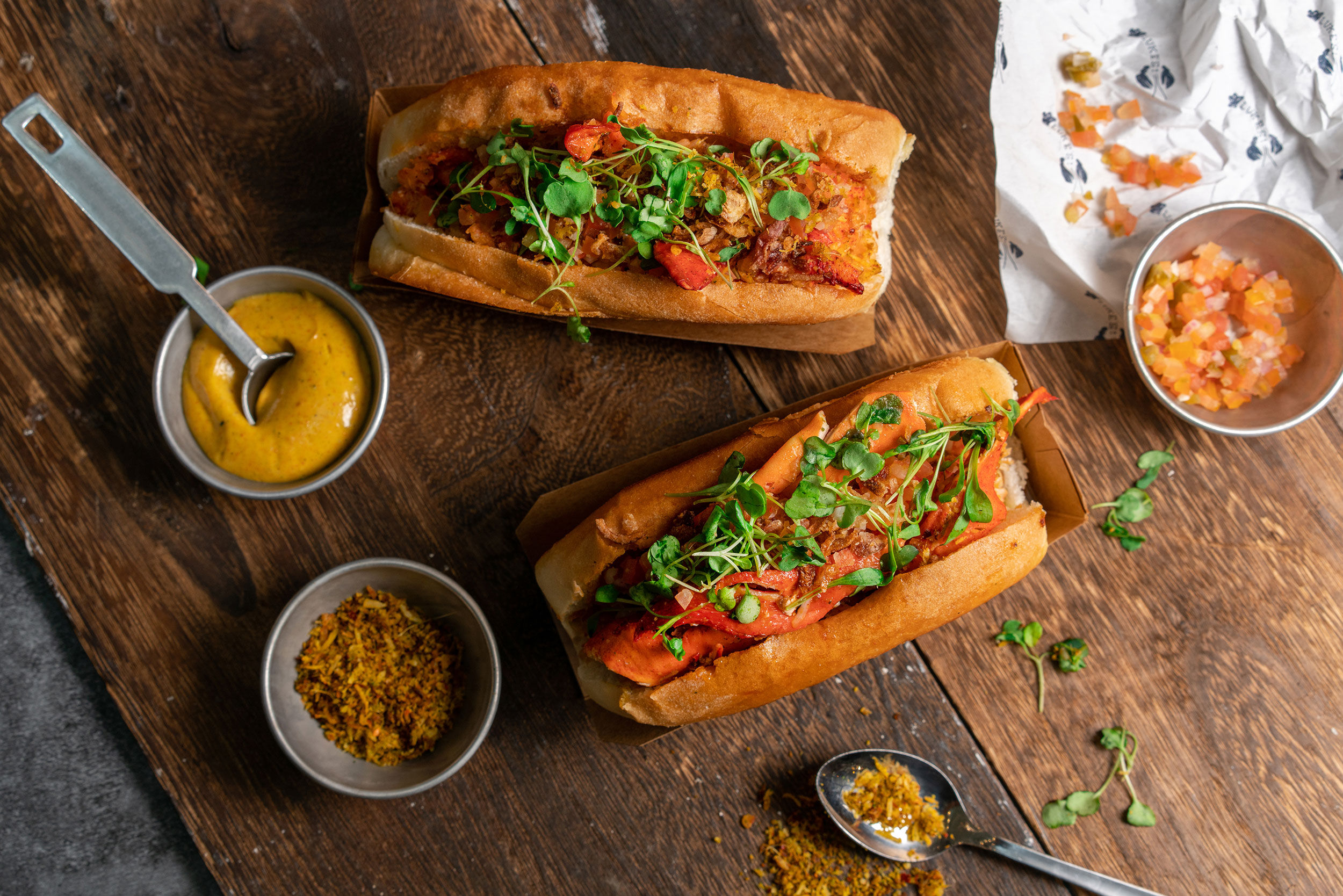 Next up was the Birds of a Feather collaboration, the Sichuan Mala Roll ($30.50). Chef See's creation starts with the silky and rich aioli: a sophisticated combination of Sichuan spices, light soy sauce, Dou Ban Jiang (preserved soybeans), black vinegar, egg yolk and Chef See's house signature red chilli oil.  After being coated with the aioli, the lobster gets a sprinkle of sea salt, cumin powder, Sichuan peppercorns and dried chilli powder for extra heat.  Each bite is packed with fiery flavours leaving a tingling sensation that will please all Mala lovers. As part of the collab, Sichuan Aioli Curly Fries ($9.50) will be available for extra spice if needed.
Of course, to have the complete Luke's Lobster experience, we had to try the Lobster Bisque ($12.90) and the Clam Chowder ($11.50).  Both soups are the ultimate in delicious comfort food, however, as a constant visitor to Maine USA in the past, the Clam Chowder gets my vote.
But back to the rolls. Thevar's Curry Aioli Lobster Roll is the monthly special running until early October, then from mid-October, the Sichuan Mala Roll will take over. Closing off this series (at least for now), come mid-November, Chef Annette Tan of FatFuku's will showcase her Peranakan Lobster Roll adaptation. Sadly, there are no details yet, but I'm convinced it will be another enticing iteration of the beloved Lobster Roll.
While these local flavoured rolls are part of the Great World opening, the "Luke's Goes Local" series will be taking place at all outposts concurrently, and on GrabFood, Foodpanda, Deliveroo and its official website, https://lukeslobster.sg/.
Verdict: Drop by and try these Singapore-inspired Rolls or go for the classic Lobster Roll. If you're a seafood lover, Luke's Lobster will satisfy that craving.
Lukes Lobster operates daily for dine-in, takeout and home delivery in 3 great locations.
Luke's Lobster, Great World
1 Kim Seng Promenade
#01-152, Great World
237994
Luke's Lobster, Isetan Scotts
350 Orchard Road
#01-K4, Shaw House
238868
Luke's Lobster, Jewel Changi
78 Airport Boulevard
#01-K209, Jewel Changi Airport
819666