Flow Bar
76A Duxton Rd, S089535
flowbarsg.com
Award-winning Master Mixologist Ricky Paiva is a true trailblazer in Asia's bar scene. During his 20-year journey, he has been the brand ambassador of Bacardi Southeast Asia and has led the beverage programme at Massive Collection, Six Senses Hotel, and Panamericana. He's famous for launching some of the best bars in Singapore including the world-recognised Manhattan Bar.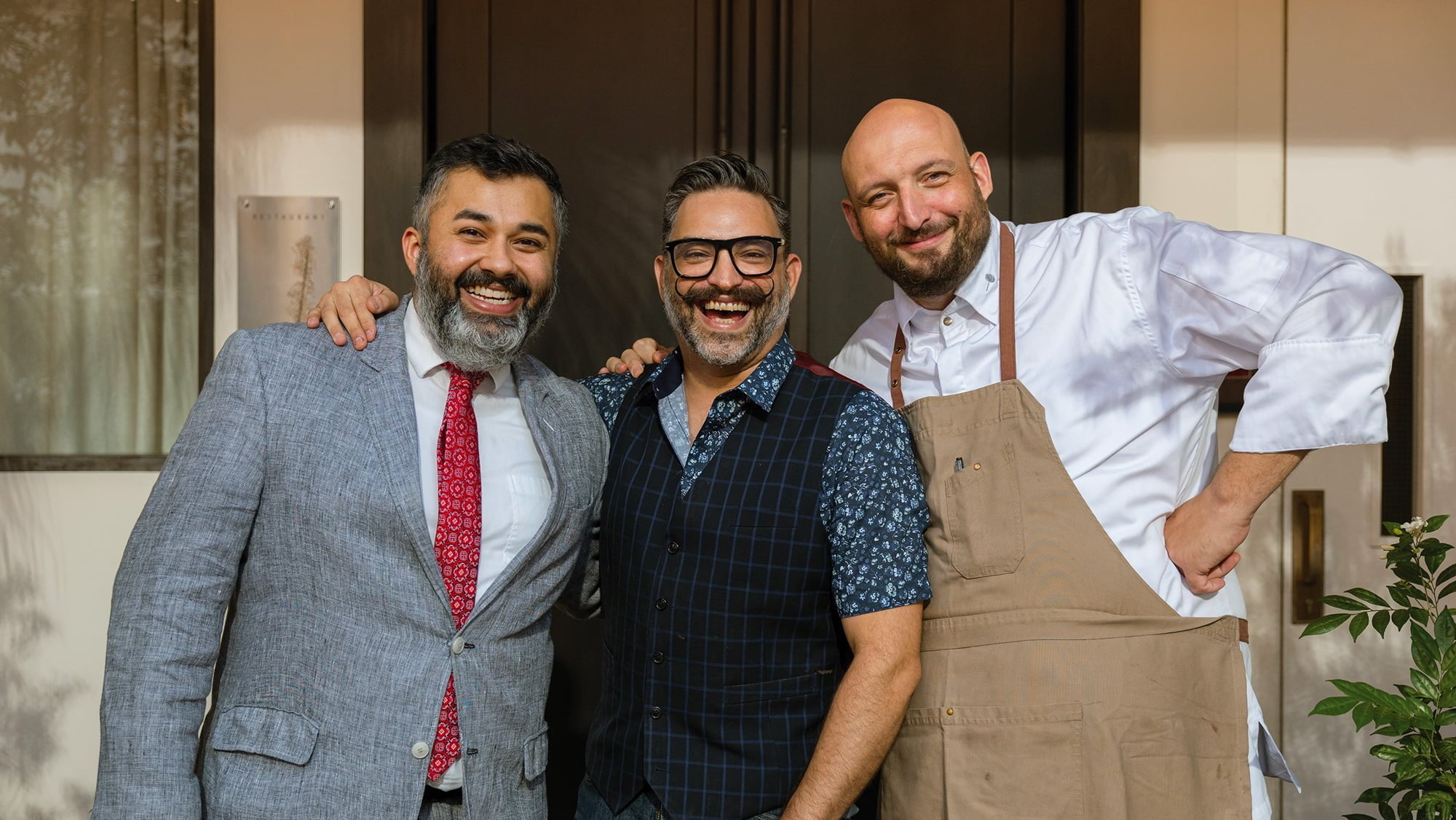 From left: Anant Tyagi, Ricky Paiva and Chef Jeremy Gillon
The result of his collaboration with Restaurant JAG is a carefully constructed, progressive, three-pillar cocktail menu that will undergo seasonal changes to represent the change of seasons in Restaurant JAG's cuisine. The bar menu is an inspiration of Ricky's cocktail recipes and Chef Jeremy Gillon's culinary genius.
Flow Bar's three-pillar drinks menu is split into three sections: Living Room, Garden and Playground. Here's an overview of what to expect from each one: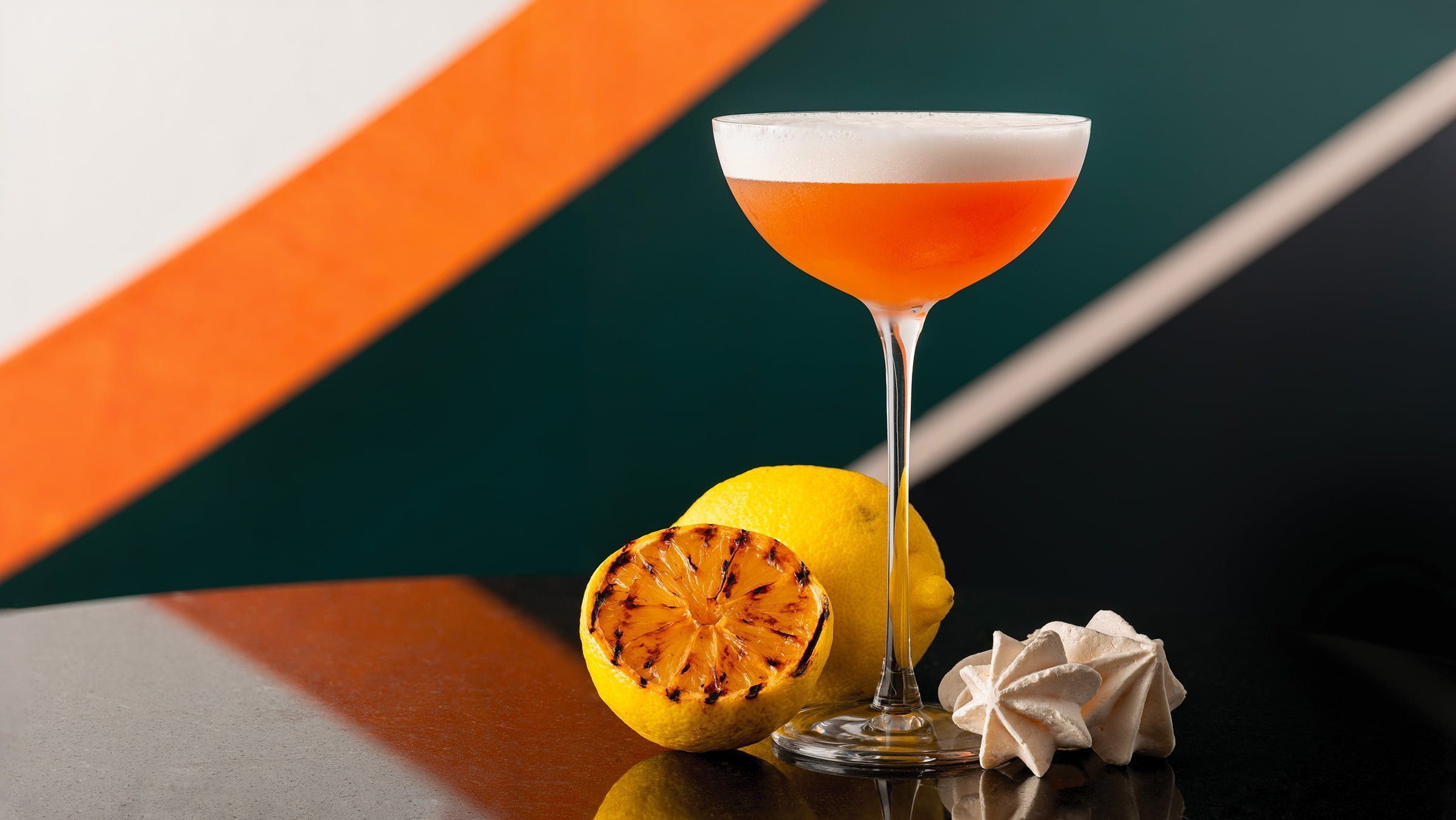 Burnt Lemon Whiskey Sour
The Living Room
Make way for complete relaxation as the Living Room drinks trigger the same feeling you get in the warmth of your friend's home. Drinks are familiar, each with a playful spin on the original recipe. Classics include Burnt Lemon Whisky Sour; Bloody Mary; French 76a (an ode to Ricky's new work address and a decadent mix of Dry Gin, Sherry, Cacao, fresh lemon and bubbles); and the Dark & Stormie (a Flor De Cana 12-year-old rum-led cocktail). The absolute banger is the Espresso Martini, crowned with a torched dulce de leche foam for a creamy and sweet finish.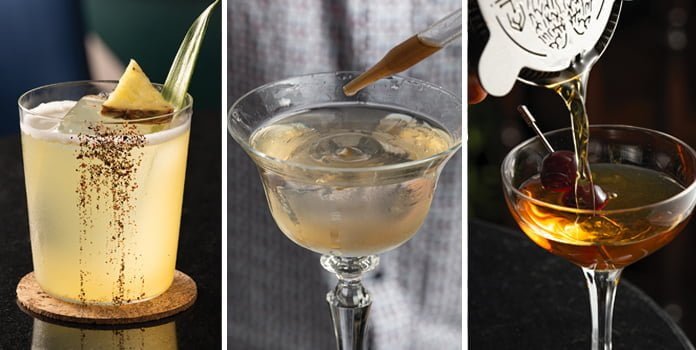 From Left: Peppered Pineapple, Shibui. Jesse James
The Garden
Inspired by Chef Jeremy's omakase seasonal restaurant menu, Ricky crafts a beautiful selection of exciting and unique drinks for the Garden. Some of the seasonal concoctions include Strawberry (strawberry gin, lemon verbena, seltzer); Chamomile (chamomile infused vodka, chamomile honey, seltzer); Thyme (Smokey Monkey Shoulder, lemon thyme, fresh lime, seltzer); and Basil (Hendrick's Orbium, Tonic Bitters, seltzer).
The Playground
Here's where Ricky really lets his creativity loose as he pushes the boundaries with some of his naughtiest (but always nice!) offerings. "Some of our guests might play harder than others, so there are no limits or boundaries to this menu. Let your imagination run riot," Ricky says. Expect Cinnamon Girl (Apple Bourbon and caramel with a dash of fresh lemon); Jesse James (12-year-old Balvenie and rye whiskey); Shibui (inspired by the Japanese expression of timeless elegance); and the Classic Martini (a smooth combination of Isle of Harris Gin, umami bitters and house blend vermouth) which comes with a refined Japanese finish). Pimm(p'd) Up is a refreshing combination of Hendrick's Gin, Pimm's, yellow watermelon, fresh lemon and mint. Peppered Pineapple comprises tequila, mezcal, roasted pineapple, lime and pepper infused agave.
All cocktails are priced at $24++. The menu also includes traditional drinks and a curated list of the best gins, whiskeys, vodkas, and more.  
VERDICT: Flow Bar is an intimate, relaxed and inviting space where contemporary flavours meet timeless cocktails. It's ideal for pre or post dinner drinks. The elegant surroundings treat guests to a sense of privacy while still showcasing a bird's-eye view of the Michelin-starred kitchen of Restaurant JAG below.