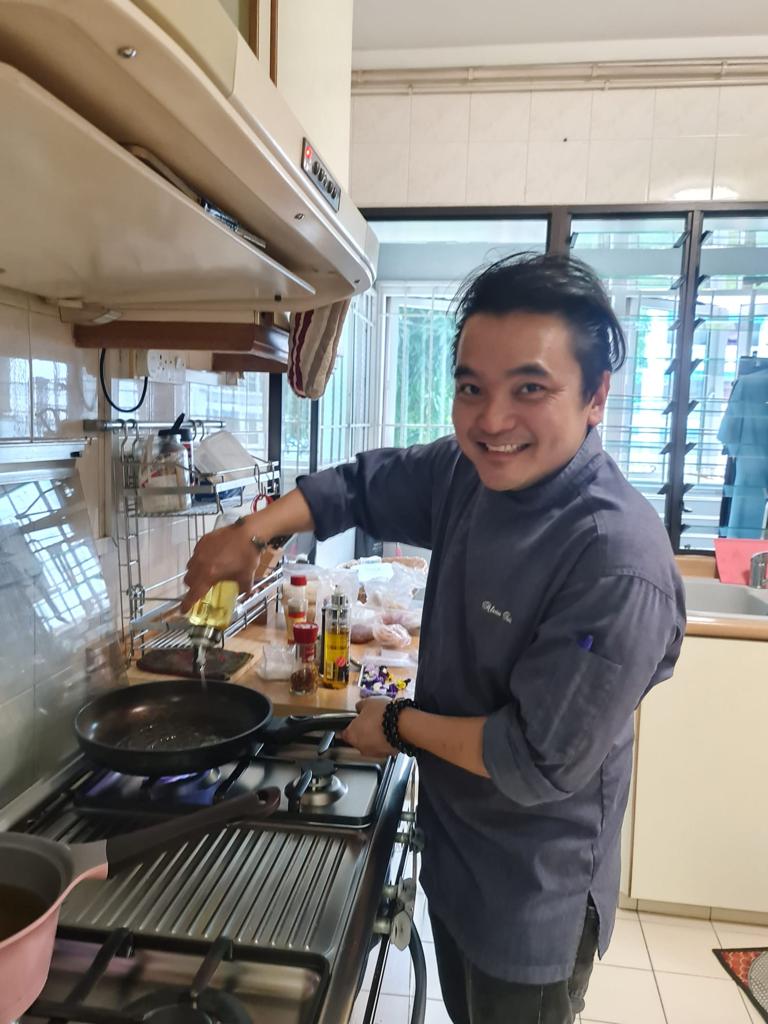 Dining at home on a meal by a private chef is the ultimate indulgence. Private Chef Alvin Toh whips up delicious meals in the comfort of your own home – a boon as Covid restrictions continue and eating out can sometimes be tricky.
Specialising in pasta, his a la carte menu is provided in advance for ordering, with items ranging from $6 to $28. The affable Singaporean, who taught cooking at a government institution and ran his own restaurants in Singapore and Thailand, shared, "Specialising in pasta is a way of presenting my skills. I want to use my own inspirations and creativity to create fusion pasta so that I can show my personality and my best hospitality."  He mused, "Because of Covid-19, I can bring food to my customers, at affordable prices, so that everybody can enjoy the food I used to cook in my restaurants."
We (four adults and two children) put this to the test recently, celebrating an auspicious family occasion with some dining at home. A repeat performance is already planned, thanks to our enjoyment of sharing fragrantly expressive lobster bisque, delectable foie gras, well-dressed rucola salad, memorable truffle fries, three pasta dishes and two risotto creations. Black pepper beef risotto stood out for its homemade tomato sauce with chilli padi and black pepper, tender cubes of wagyu beef, with the risotto creamy yet with each rice grain intact. Crab de vodka was savoured for its luscious blend of tomato sauce and cream sauce, with crab meat and onions crowning a mound of al dente pasta.
Chef Alvin also entertains at his Buangkok Woods home, from one to five diners, with a minimum total spend of $80. Cooking at workplace gatherings is also popular.
VERDICT: Recommended for delicious, casual 'dining at home' meals without breaking the bank. With singing as his hobby, the chef has been known to break into song whilst cooking!
Chef Alvin Toh
Mont Delizioso
Email alvintoh6@msn.com
Tel: 98893775.