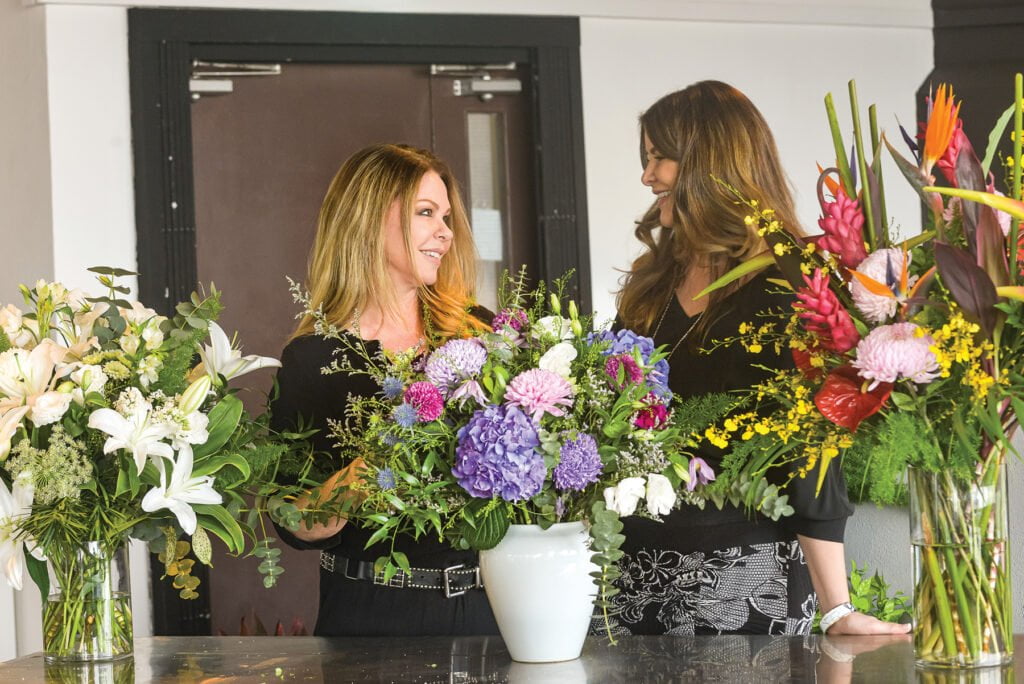 Warehouse spaces don't tend to be described as peaceful and pretty, but the home of online florist Flower Addict is just that. Away from the urban environment of Henderson Road, it's a sprawling and light filled landscape bursting with greenery and fresh blooms, big fridges to keep the foliage cool, and apron-clad staff busily pruning and preparing bouquet deliveries.
Founders Sandi Sadek and Kerry James add to the tranquil feel as they warmly welcome us inside while needlessly apologising for the décor as they've only just moved in. The two long-term Australian expats had long been fans of flowers and design before launching the business in 2017 after years of searching the island for stylish floral arrangements at reasonable prices. "Our criteria for Flower Addict was contemporary designs, quality flowers, generous sizing, luxurious packaging, and excellent customer service," they say. "Additionally it was all about ease. We both have busy lives and wanted to offer consistently great products, all online, on an easy-to-use website, with same day delivery across Singapore."
Their ultimate goal was a simple one – to 'Make Life Beautiful' – and it's definitely mission accomplished. "Floristry is such a positive business and we love working from a soothing and therapeutic space," they continue. "We enjoy sharing happiness and our love of flowers with people in Singapore."
With this in mind, we asked Sandi and Kerry to talk us through their favourite bouquet offerings for spring. If you're quick, you'll be just in time to put in an order for Mother's Day. If not, here's some ideas for easy flower arranging tips for beautiful bouquets that you can create at home.
"My favourite bouquets are mono-bouquets, which are on-trend right now. With spring approaching, I'm very into yellow flowers"
Kerry James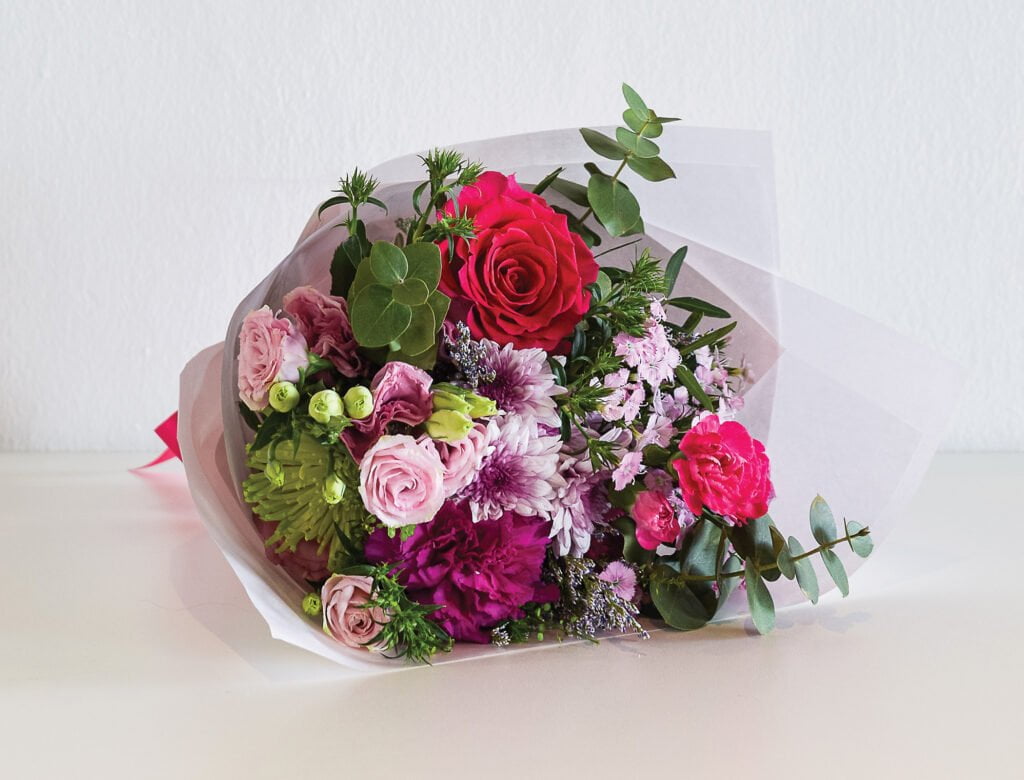 Mini Bouquet
What you need:
Twine
Tissue paper and small plastic
Kraft paper
Ribbon
Tips:
On a budget? Use filler flowers such as sweet williams, carnations and chrysanthemums to make bouquets fuller without spending too much
To bunch the flowers together, give some space between flowers and adjust the heights of the blooms for a more dynamic look. Cut them down to the desired mini length and use twine to bind them together
Use two sheets of kraft paper to wrap; a shorter and a longer piece
Pick a side that looks best for "the front". Wrap the kraft paper a little lower there to showcase the flowers and place the ribbon to face that same side for presentation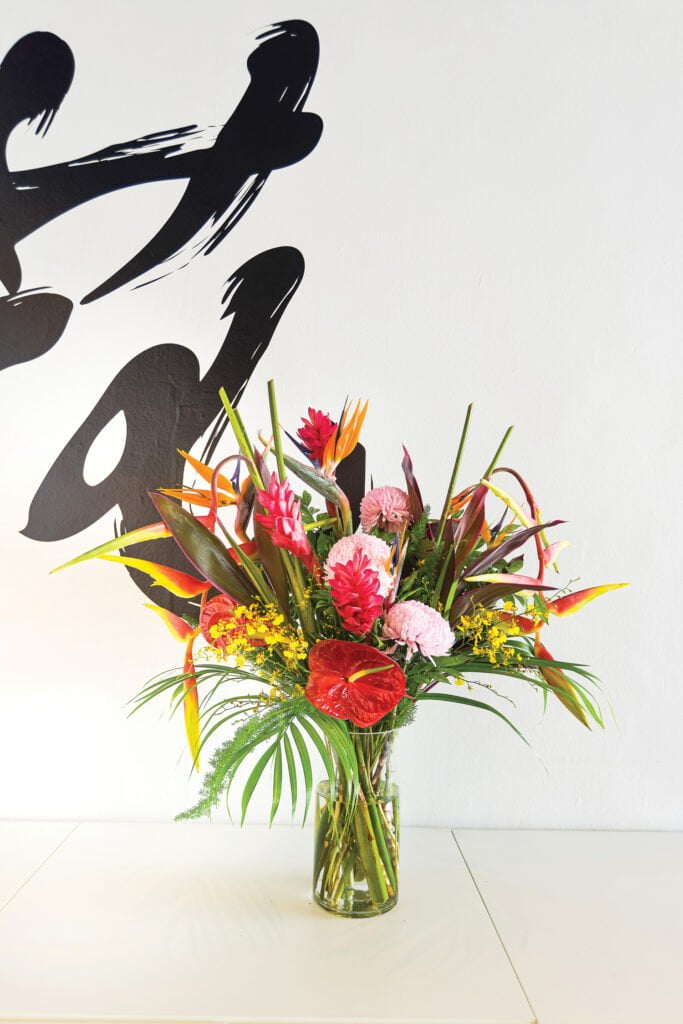 Tropical Paradise
What you need:
Tips:
Think about structure and colours. Fresh greens with yellow, orange, and red accents take your mind to a warm and relaxed place
Anthuriums, bird of paradise and ginger will work well. They also thrive in hot and humid climates such as here in Singapore
When arranging flowers in a tall vase, the flowers you decide on should have long and sturdy stemsStart with a larger, heavy branch or stem as your base. It's easier to keep the other flowers in place when you have this to work from
Set the tone with your vase. It can range from glass to gold, but keep it simple as the blooms are a statement themselves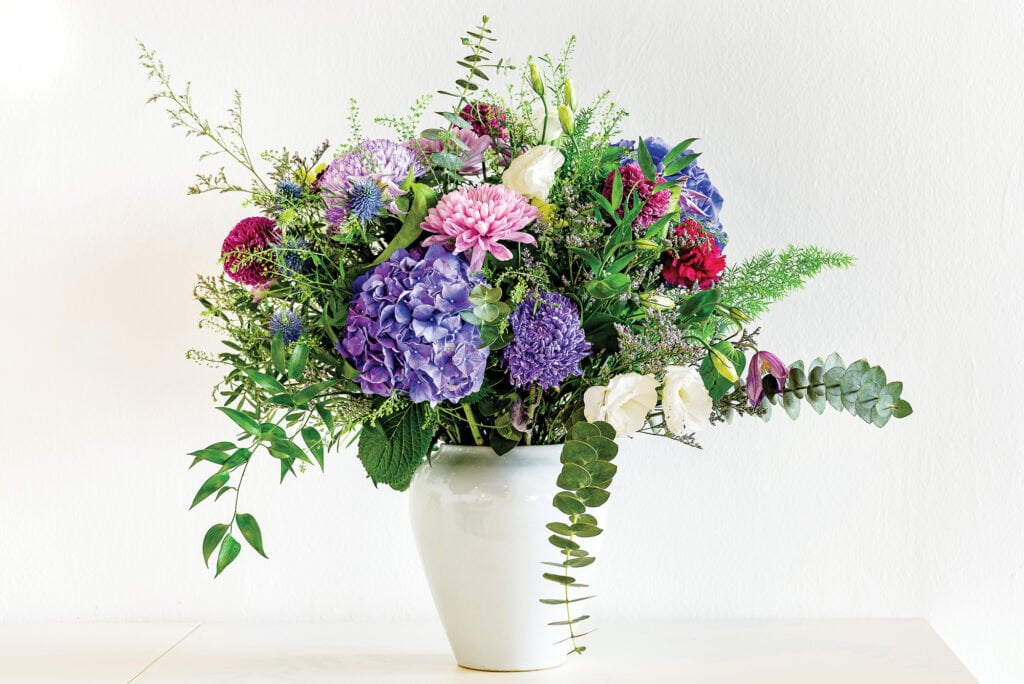 So This Season
What you need:
Cool on-trend vases (we're using an opaque ceramic white vase)
Twine
Tips:
Pantone announced the colour of 2022 as Very Peri, a charming mixture of calming blue and captivating purple-red undertones
Use seasonal purple flowers that include blooms such as statice, thistles, clematis, veronicas and hydrangeas
Medium vases provide the most freedom as they usually have a wide opening and can fit many floral varieties
Start with building a base with some foliage and then add the main flowers. As these will form your focal point, it's best to space them apart evenly. If it's your first time, it may be easier to start with the biggest blooms and then the smaller ones to give the final accent. If in doubt, start with a mono-colour palette!
Tie with twine at the end to facilitate an easy change of water. Hydrangeas are thirsty flowers, so remember to split the ends of the stem
"I like big, bountiful bouquets that exude abundance because you only need one of these in your home to make a statement"
Sandi Sadek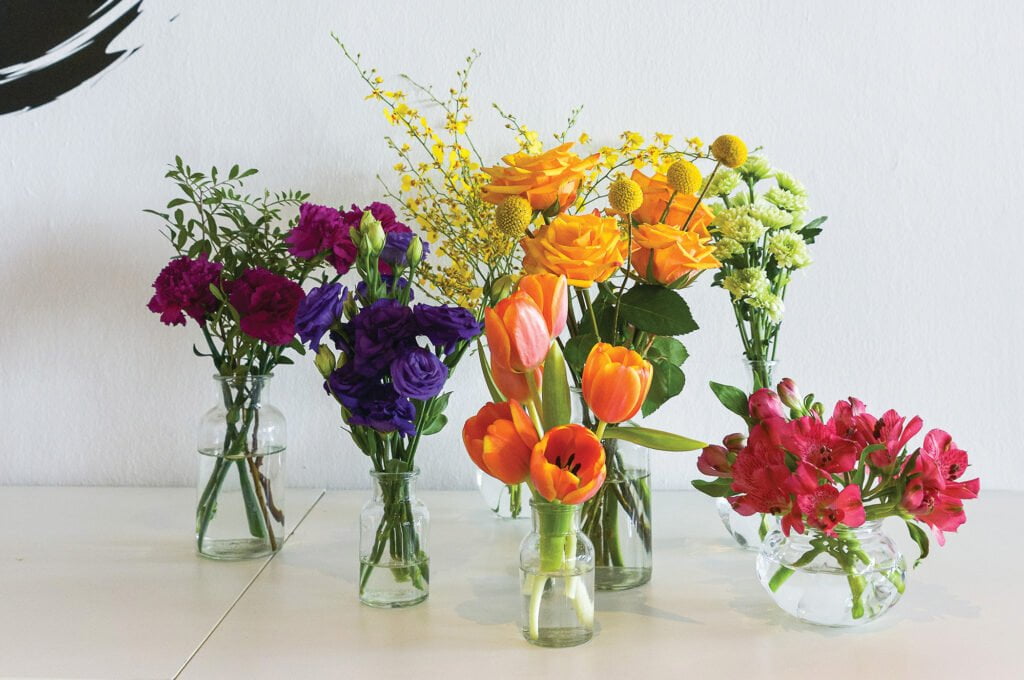 Bursting into spring
What you need:
Tips:
Spring means lilacs, daffodils and tulips in bright, colourful hues which heralds a vibrant and lively season of the year
For a longer vase life, pick blooms that are still in bud form or just beginning to open.
For immediate impact, pick those that are fully open
Insert cuttings of your favourite blooms into bud vases. The great thing about shorter vases is that they cater for broken stems. Each vase should accommodate three or four stems. Keep it simple and stick to one type of flower and hue per vase
To create a beautiful landscape with a collection of small vases, position the flowers at different heights. If you want a main focal point on your table (especially if it's round), cluster them around the centre. If on a rectangular dining table, spread them out. Try positioning them in a snaking 'S' fashion. Keeping the shape dynamic means you'll get impact from any angle
Feeling adventurous? Go for a splashy accent. Think of the colour wheel and choose complementary colours for the container and blooms. For example, peach roses make a statement when placed in a bright blue vase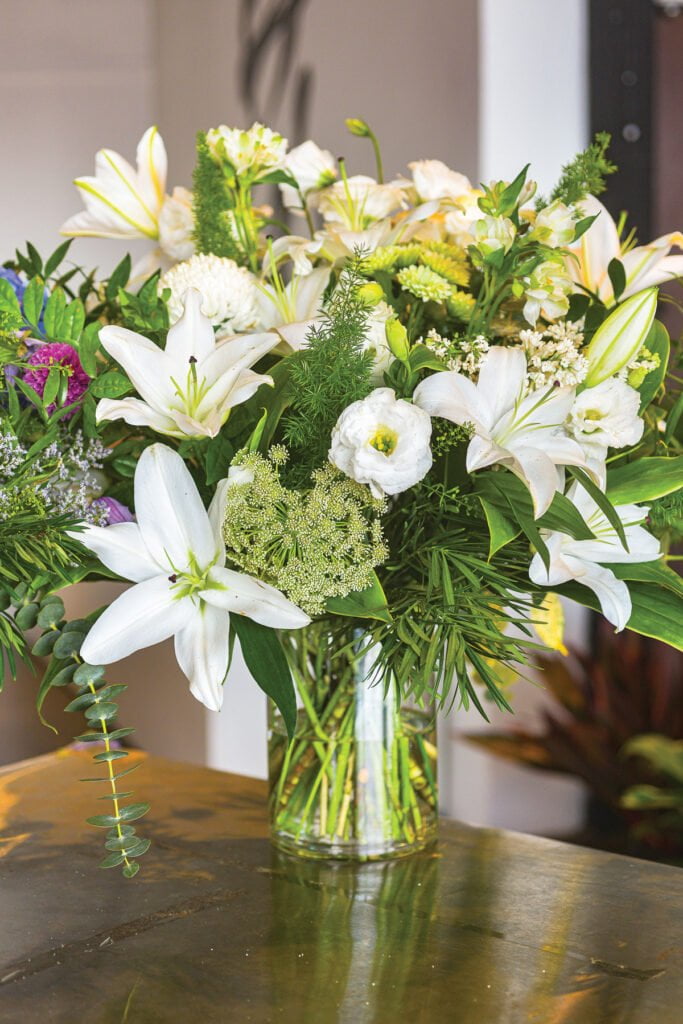 Lush & Beautiful
What you need:
Clear, large vase
Twine
Greens of different varieties, white flowers
Tips:
For less distraction to calming greens, pair with classic white flowers such as fragrant lilies. Open and bloomed lilies also give the impression of a fuller arrangement
Use a variety of greens to mimic different varieties of textures and shades of green
When using lilies, clip the anthers from them as they open. This will prevent the pristine white petals from staining
It's best to change water every day or at least every other day. Add flower food when doing so, making sure that no leaves are below the waterline as they may rot and result in bacterial growth
Flower arranging 101
Step 1: Gather your materials. This includes scissors, vase, plant food, water and flowers of choice.
Step 2: Remove any extra leaves to create clean stems. It's okay to leave some foliage but remember that you'll also have greenery to fill in any extra space.
Step 3: Measure the flowers against your vase and cut them to size. Be sure to cut the stems at a diagonal angle to allow them to soak up more water and help them to stay alive for longer.
Step 4: Fill your vase half full with water. If you use less water, make a note to change the water more often.
Step 5: Pour the plant food into the vase. It should naturally mix in but give it a stir until it's dissolved if it sinks to the bottom.
Step 6: Start by crisscrossing your foliage to create a base. Forming this lattice pattern will create a sturdy foundation for your other flowers.
Step 7: Add in your focal flowers, making sure they're nicely spread out.
Step 8: Add in your secondary flowers – these tend to be smaller and will neatly balance out the flowers in your arrangement.
Step 9: Rearrange or fill in as needed. Remove any wilted petals and adjust the flowers where necessary to fill in any empty spaces.
Find Flower Addict at floweraddict.com @floweraddictsg