Aah, the Afternoon Tea: the tea-related ritual, introduced in Britain in the 1840s for Queen Victoria, who had a penchant for an endless flow of fine brew accompanied by a smorgasbord of delicate cakes, sweet pastries, scones with clotted cream and jam, and teeny 'finger' sandwiches (without crusts for extra poshness).
The event, which then evolved into a mini-banquet to banish hunger until dinner at 8pm, is today a bonafide meal in itself and a popular pastime for those who've got a few hours spare to relax with friends or family over some sugar-powered treats.
Singapore certainly isn't short on offerings of afternoon tea, but none come quite like that of Mrs Kueh's English Afternoon Tea, served up (in delicate bone china of course) at The Dempsey Project. For she takes this classic British tradition and adds a sprinkling of Singaporean culture to the foodie platter by imaginatively adding her homemade kueh cakes into the mix.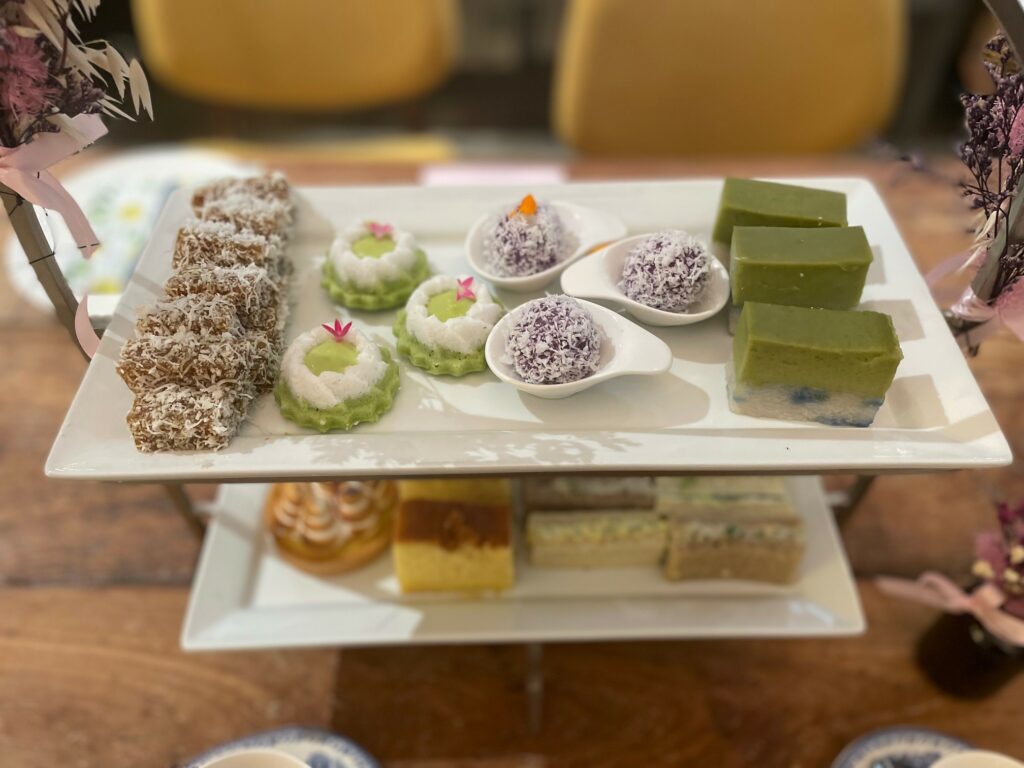 Bite-sized kueh
For the uninitiated, kueh is a soft, chewy and sticky little cake, mostly presented in eye-catching colours, and they're a huge part of Singapore's food culture and heritage.
"We wanted to make kueh more relevant to today's consumer and make it appealing to people who want to learn more about Singapore culture," says The Dempsey Project's chef consultant Jeremy Nguee who collaborated with legendary local kueh maker, Mrs Kueh, on exactly what was required.
"Kueh has a very different texture to the delicacies offered in a traditional English afternoon tea. Its more chewy and hearty," he continues. "In the early days, kuehs were meant to fill the gaps between mealtimes, which makes them the perfect addition to our afternoon tea at The Dempsey Project."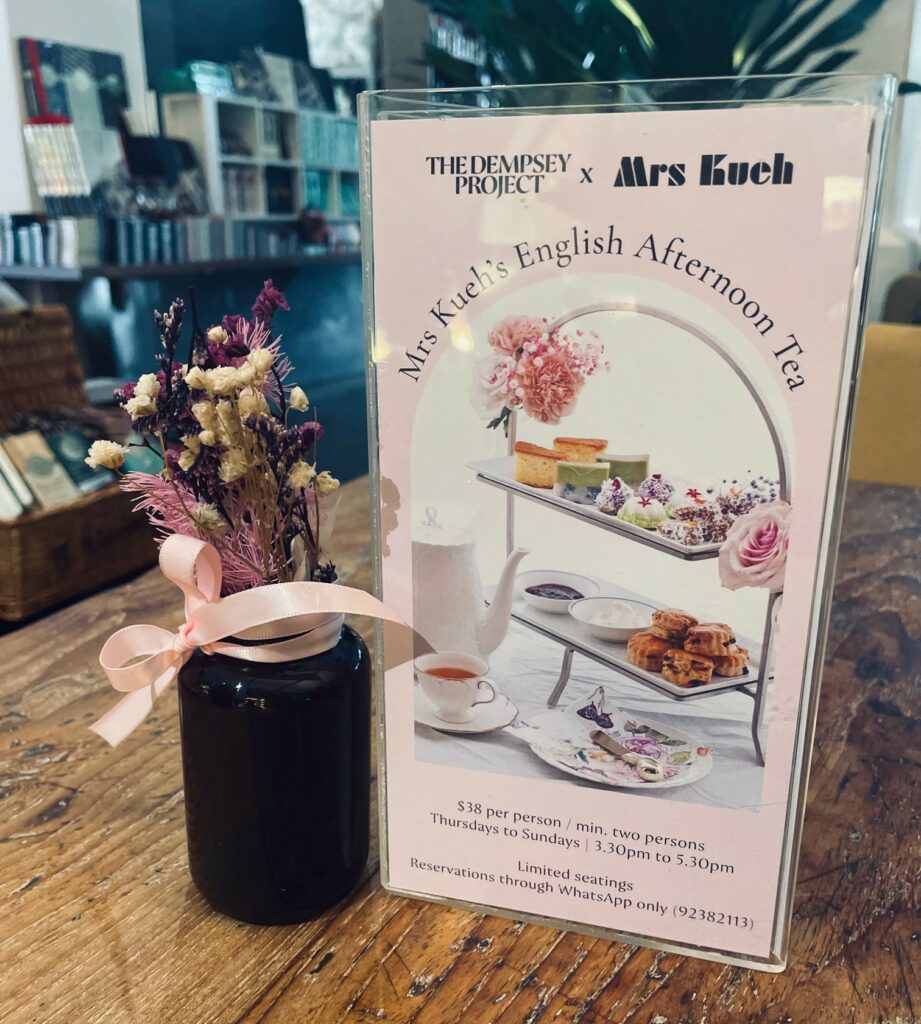 Cream or jam?
Indeed, Mrs Kueh's English Afternoon Tea includes a selection of freshly baked raisin scones, tangy lemon tart, orange tea cake and finger sandwiches – bite-sized fillings included chicken and gherkin, egg and cress, and cucumber and dill. All was washed down with a pot of Darjeeling, although champagne would have also paired perfectly (for a glass of Louis Roederer Champagne add a SGD$20 supplement).
Our selection of kueh came in the shape of pandan kueh salat, a Malaysian kueh made with pressed sticky rice, coconut egg custard and pandan; putri ayu which comprises steamed pandan cake topped with grated coconut; and kueh kosui, featuring steamed kueh and tapioca. Our favourite was the purple ondeh ondeh – mouthwatering balls of sweet potato with bursts of melted gula melaka inside.
A fine few hours were spent grazing while discussing important topics such as why do sandwiches taste better when someone makes them for you? And what to spread first on a scone: the cream or the jam? We still hadn't confirmed this by the time we came to leave, but one thing we did agree on was that Mrs Kueh's English Afternoon Tea is not to be missed.
Mrs Kueh's English Afternoon Tea takes place Thursdays to Sundays, 3.30pm – 5.30pm and costs SGD$38pp.
The Dempsey Project, 9 Dempsey Road, 247697. WhatsApp: 92382113