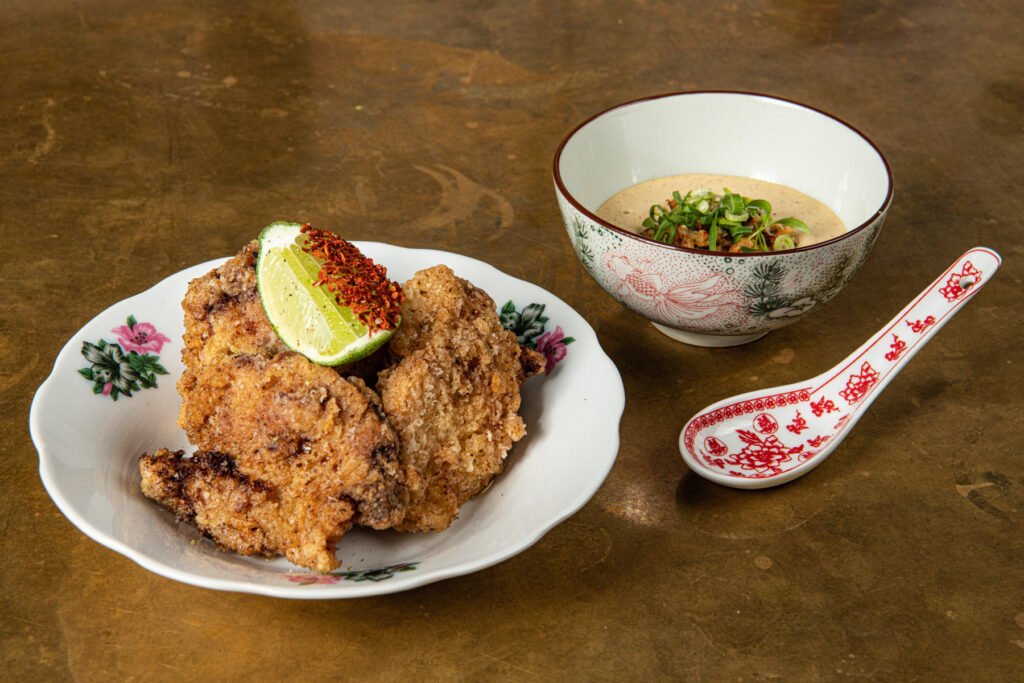 Whether you're a meat eater, vegan, or just here for the drinks, restaurants and wine bars are easy to come by in Singapore. Finding great quality establishments that suit your tastes however, can sometimes be trickier.
With an extensive menu that leaves even the most picky eaters spoiled for choice, Drunken Farmer strikes the perfect balance between variety and quality. The wine bar boasts a wide range of wines, from organic labels to trendy pet-nats, and even unique orange wines, all curated and sourced from France, Spain and more. The Farmer's Flight, which offers a tasting of 3 of Drunken Farmer's natural wines, is a good start if you're a little unsure of which wines you'd like to pair with your food.
160-year-old pizzas and succulent chicken
Don't even get us started on Drunken Farmer's Signature Karaage Chicken. Topped with a dollop of Drunken Farmer's kimchi mayo dip, the first bite is sure to get you hooked. It's a savoury flavour bomb and a textural delight of crispy, tender, juicy chicken goodness up to the last bite. And that's just one of the Hot Bites.
Their sourdough pizza is another fan favourite. Think of it this way: they are made with a 160-year-old starter, and left to proof for 30 hours before cooking. If it takes that much time and effort to make, you can bet it's going to be good. The thin yet airy, crispy yet chewy crust elevates the variety of toppings they offer to a whole new level. Choose from the Margherita Pizza with its tomato base and stracciatella cheese topped with fresh basil, to the Pepperoni Pizza, and many more.
Olive oil for dessert
Drunken Farmer is one of a few wine bars in Singapore that have a deep understanding of flavour layering and excellent food pairings that are sure to wow the taste buds. Their Dark Chocolate Mousse, which is made with 70% Guanaja Dark Chocolate is one such example. Every single bite promises a rich and intense chocolate hit amplified by Maldon sea salt, and balanced out with the acidity of orange zest. All of these flavours are then brought together by a subtle touch of extra virgin olive oil which perfectly rounds out this multi-layered dish.
We're just getting warmed up
Whether you're a wine connoisseur, a foodie at heart or both, Drunken Farmer will not fall short of your expectations. From the extensive range of handpicked wines, juices and other beverages to the evidently well thought-out food menu, Drunken Farmer guarantees you'll have an evening you'll never forget.
And if all that is still not convincing enough for you to drop by for a memorable evening, redeem a FREE glass of wine when you flash this article (limited to the first 1000 redemptions) to get the night started!
Drunken Farmer outlets:
Stanley Street
11/12 Stanley Street
Singapore 068730
Joo Chiat Road
185 Joo Chiat Road
Singapore 427456
Martin Road
22 Martin Road
Singapore 239058
Quayside Isle
31 Ocean Way, #01-09
Singapore 098375
Contact 6877 4884 for any enquiries on orders and reservations.
Website: www.drunkenfarmer.sg
Facebook: https://www.facebook.com/DrunkenFarmerSG/
Instagram: @drunkenfarmer_sg