Osteria BBR by Alain Ducasse, the renown chef holding the most Michelin stars at 21, delivers an exceptional experience with impeccable cooking techniques that extract every morsel of goodness from the best of ingredients in the world. The setting is equally impressive at Raffles' historical Bar & Billiards room. It has an elegant and easy going atmosphere away from the stuffiness associated with old Michelin-starred establishments, or as one guest described it: an Armani suit with sneakers.
We were invited to try the refreshed menu by Chef de Cuisine Natalino Ambra, a native from the Tuscan town of Prato. I noticed straight off the bat that the menu featured some unique ingredients that – unless you've lived in the country or are true connoisseur of Italian food – would go unnoticed. Prawns served alongside the Ravioli are from Mazara del Vallo and considered some of the finest in the world, only found in the waters of Sicily. The Acquarello rice in the risotto is a carnaloni variety from the Piedmont region and considered the best you can get. These are just two examples, but it's these types of touches that take the food to another level.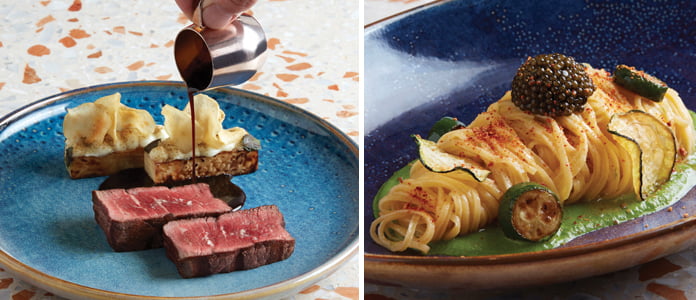 After an incredible amuse-bouche that still remains a mystery, the meal got underway with Battuta di Tonno, Asparagi Aneto; delicious tuna tartare accompanied with asparagus and a dill salad. Next was Polpo Spuma di Patate, Profumi Mediterranei, delicately grilled octopus, tender and succulent, with a potato foam that resembled a souffle-like potato.
In traditional Italian order, the pastas arrived starting with Tagliolini, Zucchini and Caviale Kristal. Three ingredients make up this amazing dish; mouthwatering al-dente tagliolini strands served over a pesto-like zucchini sauce with crispy grilled slices of zucchini and topped with Kristal caviar. The delicate essence of each ingredient in our next pasta dish, Ravioli, Mozzarella di Bufala, Salsa di Pomodorini, Gamberi Rossi di Mazara del Vallo, hit the senses in perfect order. The Ravioli offered bites of creaminess that matched with the subtle acidity of the cherry tomatoes; the Sicilian prawns provided delicate sea flavours. We then enjoyed the Mezzi Paccheri Alla Guancia di Manzo e Barolo, perfect tubes of al-dente pasta captured this beef cheek ragu low-and-slow braised with barolo wine. Filled with deep rich flavours, it's one of their signature dishes.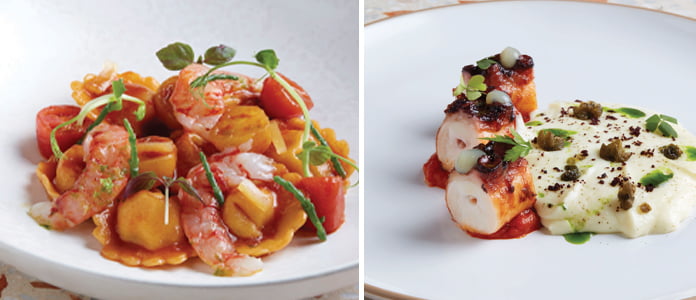 The Secondi Piatti began with the Baccala, Carote, Salsa All'Arancia, a well executed dish with an orange sauce balancing sweetness and acidity, and roasted carrots to contrast the orange flavours. Our last savoury dish, Filetto di Manzo, Sedano Rapa, Salsa di Tartufo, impeccably cooked angus tenderloin, with celeriac and a truffle beef jus. For dessert, we shared the Mousse al Cioccolato Gelato al Grano Saraceno and the Tiramisu – the best I'd tasted since my days in Italy.
Oftentimes, when dining at acclaimed restaurants, expectations are high and when a dish doesn't hit the spot, it puts a dent in an otherwise great meal. This was not the case at Osteria BBR. As well as the a la carte menu, Osteria BBR offers a set lunch, two-course or three-course, for $39 and $46 respectively on Mondays and Thursdays – Saturdays. There's also the Sunday Roma Brunch for $168++ (Roma Brunch), Brunch Venezia $198 (Brunch Roma + NV Billiecart-Salmon Brut Reserve) and the Brunch Milano $228 (Brunch Roma + NV Billiecart-Salmon Brut Rose).
Verdict: Osteria BRR offers an outstanding culinary experience. Chef Ambra does a magnificent job of showcasing the essence of Italian food with dishes that are contemporary but faithful to native ingredients and traditions.
Osteria BBR by Alain Ducasse
Raffles Singapore, 1 Beach Road, 189673
osteriabbr.com/sg