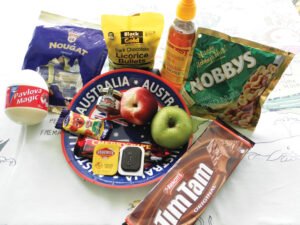 AUSTRALIA DAY, 26 JAN
Celebrations honouring this day commemorate the first settlement of Australia. The First Fleet, commanded by Arthur Phillip, sailed from England in May 1787, arriving in Australia at Botany Bay, Sydney, in January 1788, duly hoisting the British flag and proclaiming British sovereignty. Canberra ('meeting place') is the capital. The country has six States and two Territories.
Australia's food, wines and beers are well-known: oysters, prawns, salmon, beef, lamb, potatoes, beetroot, lemon-myrtle herb, Kakadu plum, quandong, cheese, fresh milk, yoghurt, Granny Smith apples, Bowen mangoes, Anzac biscuits, lamingtons, pavlova, not forgetting damper, Vegemite and meat pies.
Anzac biscuits contain rolled oats, desiccated coconut and golden syrup, associated with Anzac (Australian and New Zealand army corps) troops in World War 1. Damper is unleavened bush bread. Vegemite, a dark yeast-extract spread, is a breakfast 'must' on buttered toast. Ubiquitous lamingtons are individual squares of sponge-cake coated in melted chocolate, sprinkled with desiccated coconut, named after an early (1896-1901) governor of Queensland state. Meringue-like pavlova, airy and white, topped with whipped cream and fruit, was named after the ballerina Anna Pavlova honouring her visit to Australia (or New Zealand, depending on one's leanings) in 1926.
Host a barbeque to celebrate Australia Day and share snippets about wonderful Australian food and drinks. To create a memorable occasion, get your hands on Coffin Bay oysters, barramundi, Moreton Bay bugs, yabbies, alongside steaks, lamb chops and sausages, ending with pavlova, complete with wine, ice-cold beer, Bundaberg ginger-beer and fruit juice (plus Tim Tam biscuits and Darrell Lea liquorice!).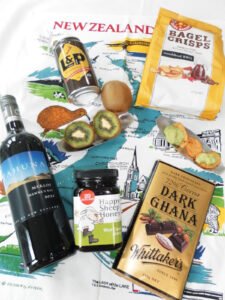 WAITANGI DAY, 6 FEB
This day commemorates the signing in 1840 of The Treaty of Waitangi, New Zealand's founding document, at the city of Waitangi, near North Auckland, by representatives of the British Crown and over 500 Maori Chiefs. Wellington is the country's capital, with the large North Island and South Island plus numerous smaller islands.
The country's food products are well reputed for their freshness: crayfish, green-lip mussels, king salmon, chicken, lamb, beef, potatoes, carrots, corn, kumara (sweet potato), pikopiko, yam, cheese, yoghurt, feijoa, kiwifruit, tamarillo, hokey pokey ice-cream, Anzac biscuits, and pavlova (with ongoing debate between Aussies and Kiwis as to whose national dessert it is).
For those not in-the-know, pikopiko are fern tips, feijoa is a type of guava, tamarillo is also known as tree tomato, while hokey pokey is vanilla ice-cream containing crunchy honeycomb pieces.
If possible, a traditional hangi (food cooked underground) would be a great way to celebrate in Singapore, or a barbecue. To enjoy abalone, Bluff oysters, whitebait fritters and meat pies would add to the mood, accompanied by award-winning New Zealand wines, beer and L&P fizzy lemon drink, with popular Whittaker's chocolates.
Both of these holidays are a time to reflect, to be thankful for the achievements of Australia and New Zealand, celebrating meaningfully with family and friends.