Being a business owner is a dream for many who long for a life without a pesky boss breathing down their neck or the chance to see their passion turn into a successful money-spinner. While we all know that starting up is no easy task, the challenges often increase when you're a) female, and b) live overseas. But we won't let that deter us!
Globally, more women than ever are striking out solo as female entrepreneurs. *New LinkedIn data shows that this was especially the case during Covid-19 when women sought out greater flexibility, or became 'necessity entrepreneurs' due to the economic headwinds from the pandemic. In the month that celebrates International Woman's Day, we meet three enterprising expats in SG who've launched, are learning loads, and loving it.
"I would love to leave a legacy that my children can be proud of"
Rebecca Metcalfe is the Creative Director and Founder of fashion brand She Creates Stories (SCS). She's originally from the UK and moved to Asia in 2021. Rebecca lives in Keppel Bay with her husband Nick, daughter Marnie, son George, and cat Max.
Please describe your business to us …
SCS is an online marketplace focused on curating a handpicked selection of Australian brands and making them accessible to women in Asia. We showcase a diverse range of styles from businesses who love breathable fabrics suitable for the humid climate. Today we stock nearly 30 Australian brands from all over the country. 
When did you launch?
We launched in Hong Kong in 2021, a year after I'd left my buying manager job in Australia for a move to Asia. I knew I wanted to start a business, so when we were in quarantine I put it into action!
How does SCS stand out from other fashion retailers?
We're unique because we offer face-to -face in-house fitting sessions, where we make sure our customers get the right sizing. They also benefit from advice and guidance from my experience as someone who has worked in the women's fashion retail industry for nearly 20 years. 
Where do you operate from?
I currently work from home. This really suits me because I have two small children. If one of them is ill, I can drop everything and be right there. It's lovely as a mum to have that flexibility. I started my company as I'd love to leave a legacy and have a family business that my children can be proud of.
What obstacles did you face as an expat woman launching a business in SG?
The difficult thing in Singapore is the visa stuff. I couldn't work when I got here so I applied for an LOC on my husband's EP. This was a long and expensive process. It's challenging for expat women to work here because of the DP visa, but I couldn't not work. I'm very committed and serving my customers is in my blood.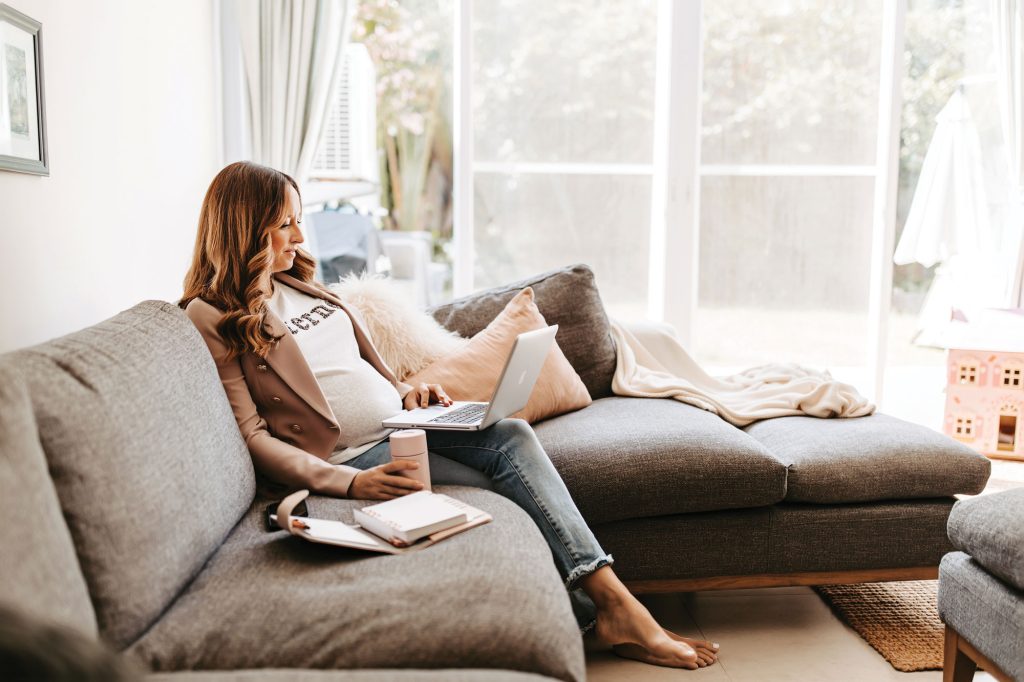 What do you wish someone had told you about running a business beforehand?
How much time everything takes. I knew it would be hard work, but even small tasks take time when you're doing everything on your own. I'm hoping to hire a local administration and marketing assistant this year to help me focus on my business strategy instead of getting bogged down in day-to-day admin. I'm excited about this, and for having someone to work alongside, as it can be quite lonely and isolating on your own. 
What do you most love about being an independent business owner?
That I'm in charge of my diary, and I can be flexible. I try to do something new every week to do with my business – visiting local factories, new shopping centres, a pop up market or a customer event. This keeps me motivated, engaged and coming up with new ideas.
Rebecca's business boo-boos (and what she learnt)
Launching in Hong Kong just before the Covid restrictions! In hindsight, there isn't anything I could have done about this. However, it was great learning how to adapt fast. We quickly started contactless doorstep deliveries in Discovery Bay in the She Creates Stories golf buggy

Buying too many styles from an expensive Sydney designer that just did not sell in Asia. The fabric, although breathable, was too heavy, which cost me a lot of markdowns. This was a classic Covid issue, as not being able to travel meant I wasn't able to touch and feel the stock. Thankfully I'm doing a buying trip to Australia this year!

Lack of financial backing meant we couldn't do all the things I wanted to right away. Our slow and steady approach has worked well so far, and has meant that I've been able to be more 1:1 with our customers, which I think has been appreciated
 9667 9907