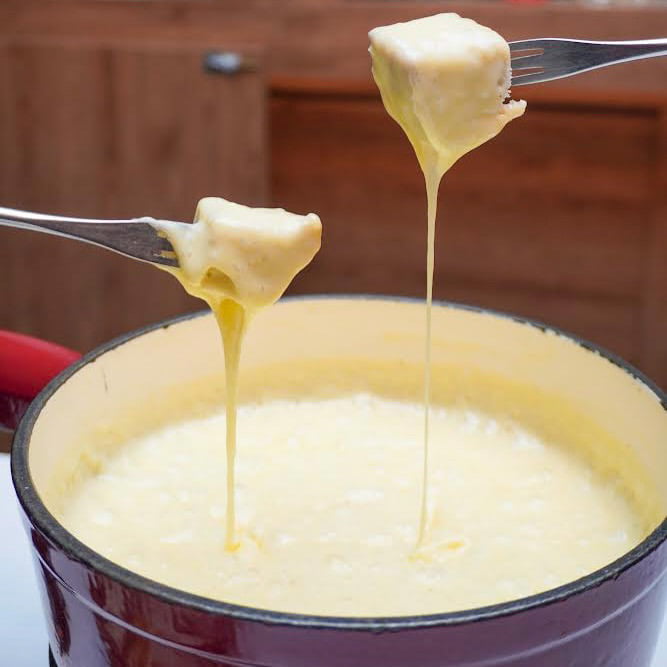 Let's face it, there is little need for après ski in Singapore, but that doesn't mean we don't crave the cosy atmosphere and the kind of epic feasting opportunities that come post a session on the slopes. Step forward Coucou – a darling Swiss restaurant sitting discreetly in Duxton and giving off seriously off piste vibes.
Leave your salopettes at home and step into intimate alpine cabin décor complete with stone-washed walls, pictures of the magnificent Swiss mountains, handmade cuckoo clocks, a happy atmosphere, but not a yodel in sight.
That is until we tried the food, which did make us what to release a little falsetto of joy. All flavours and ingredients at Coucou are authentically Swiss, as is the wine and cider thanks to Swiss chef and co-owner Yves Schmidt who inherited many traditional  'secret' recipes from his grandfather. Indeed, we start with the Salade Coucou, a clean and zesty number that looks relatively plain (and healthy!) to the eye, but is jazzed up with a special homemade dressing – the formula of which is shrouded in mystery!
The rösti, Rosti Saucisse de Saint-Gall, delights with the addition of a veal sausage and onion Confit sauce; meanwhile, Tagliata De Boeuf came in the shape of premium aged grass-fed striploin of beef in a garlic butter sauce.
Dip, swirl, dab
Fuelling our deep-rooted obsession with cheese is Malakoff, a crunchy dome of oozy gruyére that melts in the mouth and tastes killer with a touch of mustard. However, the showstopper at Coucou is the fondue. Fondue Moitie-Moitie (from $38 per person) is a classic original recipe from Fribourg that includes half Gruyère AOP and half Vacherin Fribourgeois AOP and optional alcohol, which is served in a bubbly cauldron-esque pot before you. The eating etiquette here is very important: stab your chunk of bread, dip, swirl, and add a dab of the accompanying nutmeg curry powder if you want to spice things up.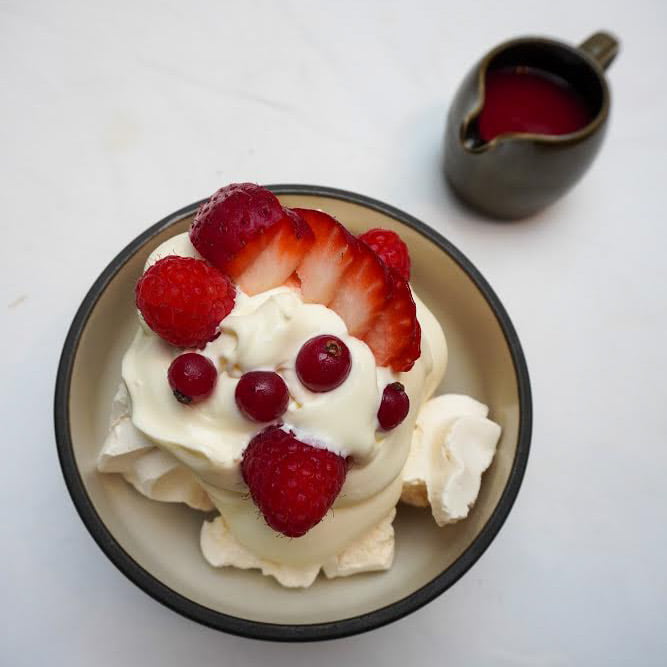 The cheese does not stop when you get to dessert, oh no. Coucou's snowy white Meringue à Crème Double De La Gruyére is a swiss meringue topped with fresh berries, a tart berry sauce, and served with gruyére double cream. Coupe Suisse comprises vanilla ice cream served with hot Swiss chocolate and chantilly cream.
If you've never tasted Swiss wine before, here's the place to try it. The Petite Arvine is a fruity and floral aperitif wine that beautifully complements fish; the Chasselas Wine, is you go-to to pair with the rich flavours of Swiss cheese. Both were refreshing, lively and quaffable – so much so that we were relieved not to be skidding around St Moritz afterwards, and instead headed straight home.
VERDICT: Coucou brings a moorish slice of Switzerland to Singapore with authentic, hearty and unique dishes that epitomise Swiss culture and heritage. Visit with friends and sample several dishes, or book up for a date night for some fromage-fuelled sharing and caring.
Coucou, 9 Craig Rd, S089669, Tel: 6226 0060