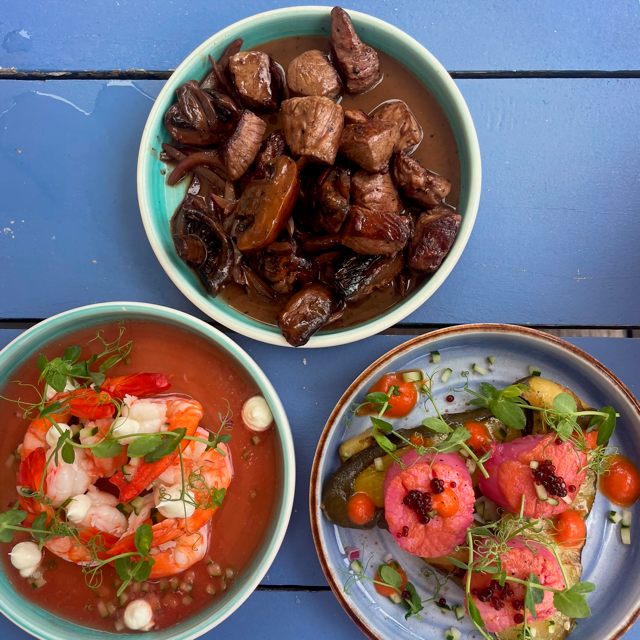 While Singapore isn't known for its beaches, there are a few coastal spots that can make you feel like you've truly escaped urbanisation and landed in a little sandy paradise of your own. Coastes, on Siloso beach on Sentosa is one such place. A much-loved stalwart of the island's shoreline eatery scene, it's been keeping sun-loving punters generously fed and watered since the early 00s and is famous for its prime position, casual breezy vibe, shabby seaside chic and plentiful menu.
Good news: none of this has changed! But not ones to rest on their laurels, Coastes has just reinvented its dining experience with its weekend bottomless wines and bubbly package ($65++) alongside some updated breakfast and all-day dishes from its menu for all the family.
New line up
We start by perching ourselves at one of the benches on the decking overlooking the sunloungers – an excellent placement for people-watching as well as gazing into the tranquil waters ahead. If you're feeling breakfasty, Coastes' new Ham & Cheese Croissant ($18++) comes freshly baked from the oven oozing rich Gruyére cheese; the Spinach & Feta Filo ($18++) comprises flaky filo dough with a punchy filling; and the Avocado & Poached Egg Muffins with Goat Cheese (18++) are a got-to if you're continuing a party from the night before.
Those with more of hearty meal craving might want to expand the waistband of their boardies thanks to the new line up of pastas, risottos, burgers, and more. There's Cheek Ragu Risotto ($28++), Fettucine Carbonara ($25), and Crispy Fried Cod Burger ($26++) for those clever enough to know they need something filling to assist them with free-flow drinks. We dived into the new BBQ Pulled Pork Burger ($24++) which was deliciously tasty with jalapeno slaw, chipotle mayo, cheddar cheese and egg; and a refreshing Smoked Duck Salad ($22) with Grana Padano cheese shavings and balsamic vinegar. New vegetarian dishes include Grilled Vegetable Antipasti ($22++), a Mediterranean-style platter of caramelised zucchini, eggplant, crostini, kalamata olives, roasted garlic and tomato jam; Spaghetti Arrabbiata ($22++); and Grilled Eggplant Ciabatta ($24++) with goat cheese and porcini truffle mayonnaise.
Poached prawns
If you're a fan of seafood, here's where Coastes' new entries really shine. The Beetroot Scallops ($24++), a trio of chilled pan-seared Japanese scallops soaked in beetroot jus on zucchini and topped with soy caviar was not only pretty, but slightly sweet and earthy to taste and surprisingly filling. The new Poached Prawns with Gazpacho ($22++) went straight in at number one with its chunky prawns and deep tomato flavours complete with body, bite and splashes of sour cream sauce – the ultimate summer soup.
The new dessert on Coastes' weekend and all-day menu is the Banana & Choco Filo ($14), a Greek-style triangle of oozy caramelised banana and chocolate served with vanilla ice-cream and a smattering of walnuts. The Pineapple & Blueberry Crumble with Vanilla Ice-Cream ($14) and a Sinfully Good Chocolate Fudge Brownie ($14) are also still available for the win. More free fizz you say? Oh – go on then!
VERDICT: At $65++ for free-flow wines & bubbly every weekend from 12pm – 3pm, Coastes' package is one of the most affordable on the island. Add food and you've still got a banging dining deal which is topped off with tropical seafront energy. Take your swimmers and make a day of it.
50 Siloso Beach Walk Sentosa. coastes.com