At ANZA, we love a drink. We'll drink at a nice bar, at a lovely restaurant, by the beach, during a fancy Singapore brunch, and on our sofa while relaxing after a tough day. But often, when drinking at home we want just one glass, not an entire bottle of wine. However, cracking open a crisp white and then not consuming the whole thing in one evening can sometimes prove to be a bit of a challenge – after all, you don't want good wine to go off, do you?!
Coravin is setting out to change the way we drink wine by giving you the freedom to pour the wine you desire and save the rest of the bottle for weeks, months or even years. It basically allows wine preservation without compromising on taste. We speak to Greg Lambrecht about his invention and passion for wine.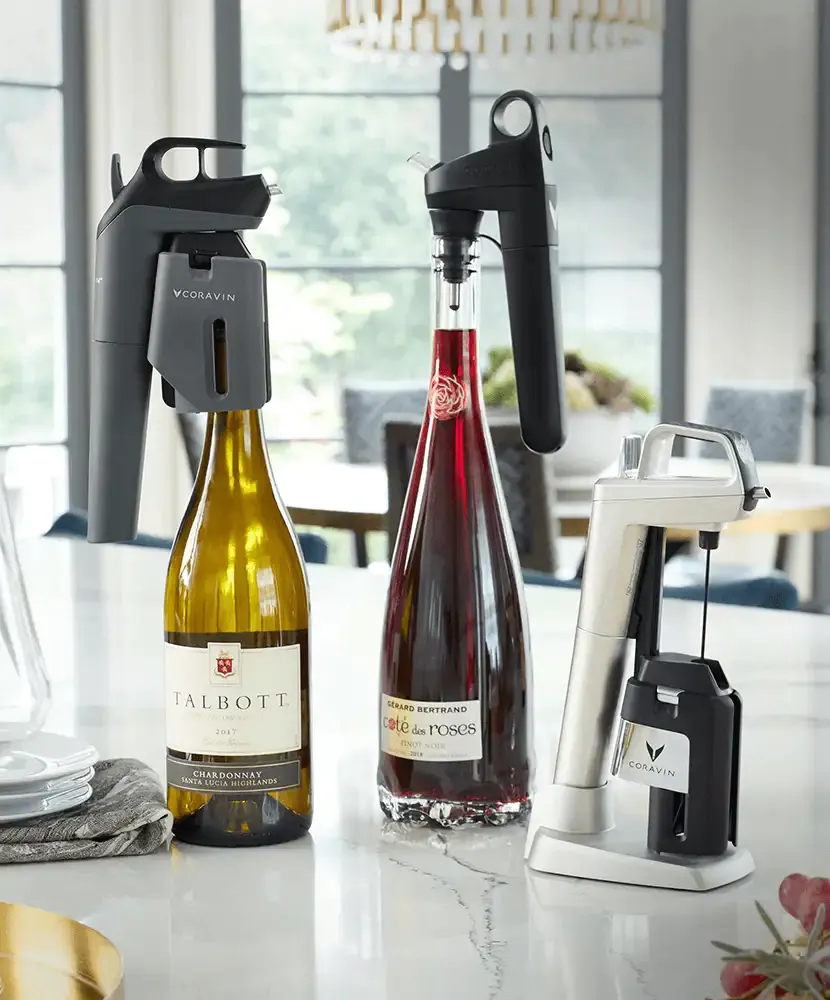 How did the idea for Coravin come about?
My background is inventing and designing medical devices and in the 1990s I developed a needle which could be used for pediatric chemotherapy without damaging the surrounding tissues. When my wife was pregnant with our first child she stopped drinking and I was stuck either not drinking wine or having to drink a whole bottle of wine myself before it went bad. I started to experiment in my home workshop with the needles to see if I could develop a prototype which would allow me to pour a small quantity of wine from the bottle but leave it still effectively sealed.
I built different protoypes, giving them as presents, and refining the system over the years until I was happy that the system worked. It enabled wine preservation which allowed me to drink the wine I wanted, when I wanted, carefully chosen to compliment the food or occasion without the need to finish the whole bottle.
How does Coravin work?
After aligning the Coravin System over the bottle, the needle gently passes through the cork without displacing the cork. You tilt the bottle and pour. As you push the trigger, argon gas replaces the wine you have taken so no oxygen gets into the bottle. The cork simply expands back to its normal shape. The needle is off centre so it will insert into a different place every time you use it. When you have taken what you want you can place the bottle back in your wine rack until you next want to use it.
Was there resistance from the wine industry to your product?
During my testing period I had worked with winemakers to blind test using my protoypes. Once I had convinced them that wines accessed through the system remain as fresh as opening a new bottle they were happy to work with me, using it to enable them to provide tastings of expensive or limited bottles to wine critics or potential purchasers without worrying about the wine deteriorating once opened.
Restaurateurs immediately saw the benefit – they could serve a larger variety of better quality wines by the glass without the risk of wastage. Now many of the world's best restaurants use Coravin wine preservation by the glass systems. In the USA and Australia we sell a lot of products to the home consumer who just want to be able to enjoy a variety of different wines at home.
Can you only use it if you have a wine bottle with a traditional cork?
My initial system was designed for corks only, but we've continued to develop the product and now offer a system suitable for sparkling wine and a screw cap which can be secured on to any screw cap bottle for use with the Coravin needles. We also have a Pivot system which can be used on any container which the stopper fits which will preserve the remaining bottle for at least 4 weeks – we use it on olive oil at home.
What's next for Coravin?
I came to Singapore to launch our new Coravin Vinitas Device at the Vinexpo Asia 2023. It is a device which allows businesses to fraction standard sized bottles into preserved, single serve bottles to address the consumer need to "try before you buy". It will allow, for example, wine clubs and suppliers to send seven small sample bottles, reducing the carbon footprint and shipping expense and help introduce consumers to a range of wines before they make their purchasing decision, or to conduct virtual tastings. We're excited to see how this helps the wine industry to connect with a younger consumer audience.
Find out more about Coravin here