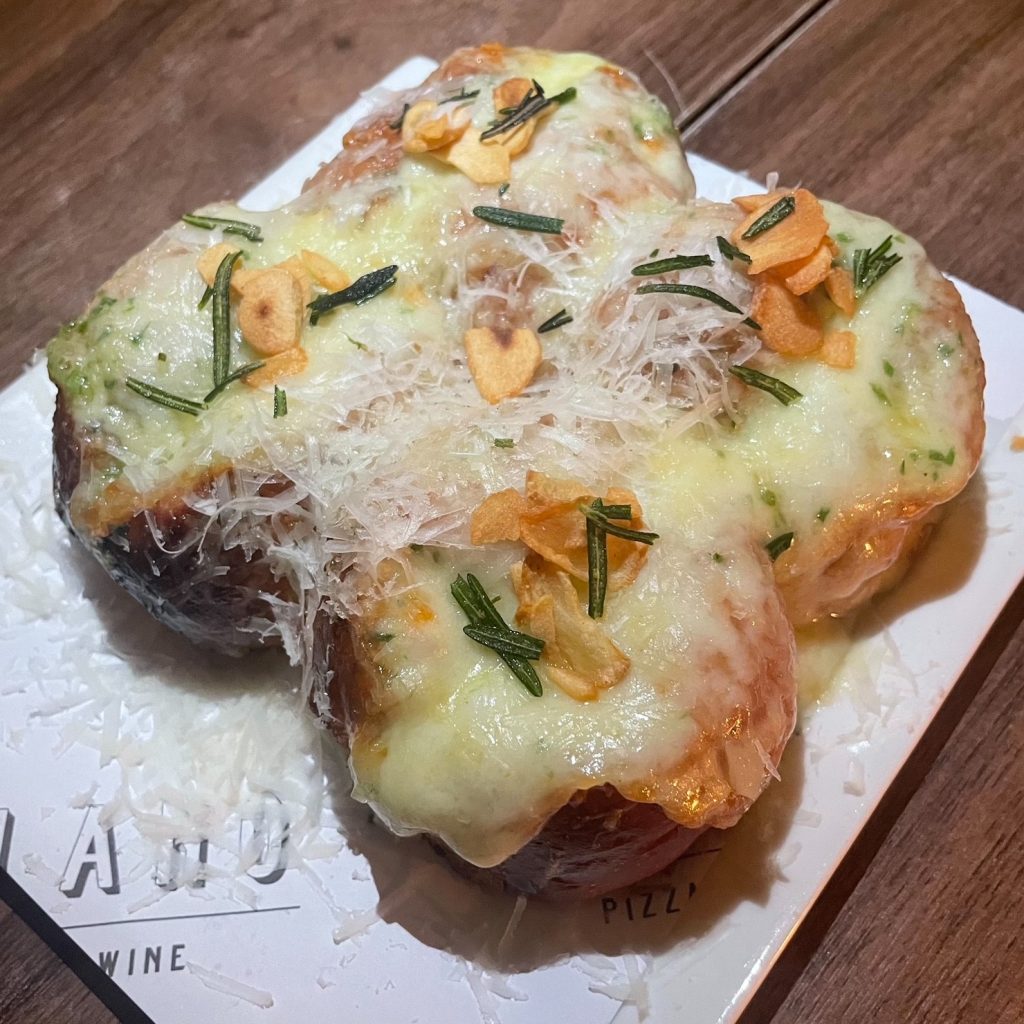 Formerly known as Milano Pizza and Wine, Buca Buca Italian Restaurant is your new favourite neighbourhood hideaway that warmly welcomes you into its arms and soothes you with comforting homecooked flavours and a relaxed, happy vibe.
The restaurant owned by SJS Group, (of Pasta Bar, Employees Only, and Papi's Tacos fame) received an upgrade earlier this year. Today's iteration comes with an expanded menu, a fresh ambience, and the continued goal of serving an unforgettable taste of Italy. Don't worry – long-time customers can still tuck into old favourites, but they come alongside a wider range of Italian ingredients throughout their handmade pastas, authentic antipasti, and irresistible mains and desserts.
Cosy & charming
We start our evening marvelling at what a total (almost hidden) gem Buca Buca is. Located on Craig Road in a secluded shophouse, it has a cute outdoor area which is ideal for sipping Aperol Spritz away from the crowds (dogs are also welcome!). Step inside and you're greeted with large farmhouse tables, candlelight, leather banquets and "grandma lampshades" that make for a casual bistro-ish set-up. An open kitchen sits at the back with a high heat stone-fired oven. Extra points go to the wonderfully chintzy soundtrack of vintage pop from around the world playing in the background.
It all feels very cosy and comes with a hint of charming old-school glamour, which is also due to some of the friendliest and most helpful staff we've encountered in a while. Indeed, the service is exquisite, and after the first 'saluti' of Chablis, our dining experience begins with our waiter constructing a huge Grilled Prawn Caesar salad ($38) for us tableside from a glorious serving trolley. Baby Gem Lettuce, Grama Padano, Old Bay Croutons and Caesar Dressing are whipped into a frenzy before adding chunky Gochujan Spiced Prawns into the mix.
Garlic & Mozzarella Cheesy Milk Buns ($17) kick off the carb-fest and are thankfully deceptively light but dangerously moorish – the mozzarella and garlic butter making for a lethal combination. Enjoyed alongside the ceaser salad causes an explosion of punchy sensations, the pillowy buns mopping up the dressing perfectly.
Next up, the homemade pasta. We opt for the Rigatoni 40 Clove Garlic Pomodoro Sauce (V), a simple yet impactful combination of San Marzano Tomato, Confit Garlic and Fresh Basil Parmigiano Reggiano. Other pasta dishes include Pici Alla Grici ($34), Pappardelle With Our Sunday Beef Cheek Sugo ($38); Chicken Francaise "New York Style" ($38); and Grilled Iberico Pork Collar ($48). Buca Buca also do a zucchini pesto "pasta" ($28), where the pasta is substituted with zoodles.
Fold, pick up, devour!
Already famous for its pizza, Buca Buca's Truffle Straciatella ($38) absolutely hits the spot with Fresh Shaved Truffle, Truffle Burrata, Truffle Cream and Fior Di Latte. As one of the Sicilian Grandma Pizza options, this 6-inch square, two-inch deep pizza pie (the brainchild of Italian immigrants to New York) comes thick, airy, and made with naturally fermented Sourdough.
Other pizza styles include the likes of 400-degree sourdough 12-inch NEO-Neopolita. Baked at a consistently soaring temperature, it comes with a uniquely developed "crumb" (pattern and size of air holes inside of the crust), sourdough flavour, and an intentionally charred crust.A sturdy base means your topping remains put – we just had to fold, pick up, and devour!
We're not going to lie: squeezing in a dessert was a push as the portions at Buca Buca are generous, but we somehow managed to make a Chocolate Fudge Brownie ($18) disappear. If not for waistband constraints, we would have gone for their famous Tableside Tiramisu for two people ($25). We'll just have to return (wearing looser garments!).
VERDICT: Offering comforting food, fabulous Italian-forward wines, eclectic cocktails and a unique and comforting atmosphere, head to Buca Buca for a relaxed date, dinner with the gals, or just an al fresco cocktail and carbs with your pet pooch!
Buca Buca, 10 Craig Rd, 089670. Check out bucabuca.sg for further details including their set lunch, weekend brunch and Happy Hour.