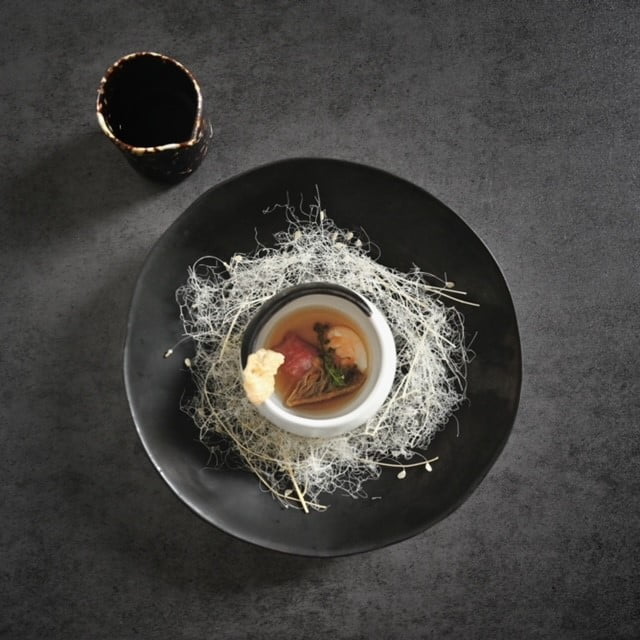 Lo Quay, a New Vietnamese cuisine restaurant, is the latest addition to the renowned Dandy Collection, known for culinary gems such as Firangi Superstar, Neon Pigeon, and Fat Prince.
A visit to Lo Quay, meaning "discovery" in Vietnamese, promises a foodie experience that lives up to its name. Chef Brown, a Saigon native, has created a menu that intertwines her gastronomical origins with her global exposure to other culinary cultures. Her dishes contain salty, sour, spicy, herby, and sweet elements of traditional Vietnamese dishes that are knitted with other complex and complementary ingredients of faraway cuisines.
Chef Brown's journey started in Los Angeles, where she learnt the trade from the ground up before enrolling in the culinary program at the Art Institute of California in San Diego. From there, she joined acclaimed kitchens around the globe like Nobu and Zuma where she discovered new ingredients that are represented in her creations.
Undoubtedly, Chef Brown is part of a new wave of Vietnamese chefs reshaping their country's cuisine through a progressive, global lens, anchored by a profound respect for its history. l particularly loved the worldly elements ranging from flavours from Southeast Asia, Middle East and Latin America peppered into her dishes
Our meal began with an array of cold appetisers: Amera Tomato, Soursop, and Shiso, Wagyu tartare with Onsen Egg and Shrimp puff (we added Caviar for an additional S$38), and Hiramasa with Pomegranate and Umezuke.
We then moved on to the warm appetisers where another round of equally delicious ingredients kept us on our toes: Pâté Choux with Scallop and Ikura, Oysters paired with Bone Marrow and Caviar, Jackfruit alongside Tomato and Tamarindo, and Obsiblue Prawn served on a bed of Sticky Rice with X.O. sauce.
Each dish was as delicious as the next, and we could have easily indulged in several rounds of these moreish bites. For me, the tartare was a particular highlight with a cured quail egg yolk, microgreens, mayonnaise, kizame wasabi (pickled wasabi stems) and fresh shallots. In the warm bite line up, I enjoyed the jackfruit: minced young jackfruit mixed with rice paddy herb (Ngo Om) sawtooth coriander, king trumpet mushroom breaded in panko and deep fried; and the deep-fried prawn covered on puffed sticky rice and topped with a chimichurri sauce was at a different level.
Depth of Pho flavours
When thinking of Vietnamese food Pho and Banh Mi come atop of that list, and the Discovery menu includes both. The humble Pho is elevated to new highs with a south-style broth inspired by Chef Brown's own journey. While the beef base is wagyu, thus rich in healthy fats, the depth of flavours is a testament of low-and-slow traditional cooking (18 hours to get 10 litres into one litre of broth for those looking for the stats), exactly what a Pho should be.
The Banh Mi is not your everyday baguette. At Lo Quay, the chef's version is presented in a "beef wellington" with grilled Iberico pork jowl, pork crackling, house made pork liver pate and kombu butter are wrapped in puff pastry and baked. It's served with Maggi demi-glace and star anise pickled Japanese cucumber.
A refreshing citrusy palate cleanser was the stop-gap we needed before heading to our mains. The menu offers Lamb with peppadew and Hijiki, Whole Seabass with Honey Aji Amarillo and Fennel, Duck with a 70% chocolate-Hoisin sauce and Cippolini, and Wagyu MB7 with Kabocha and 333 demi-glace (available for an additional S$18 per person).
Our table opted for the Seabass and the Wagyu. Perfectly cooked, the Wagyu came accompanied by a Kabocha puree and an exceptional demi-glace, showcasing the French culinary influence within the Vietnamese gastronomical roots. The beautifully presented seabass is Chef Brown's dedication to her California journey. The fish comes adorned with finely shaved fennel and a honey Aji Amarillo sauce, which reflect Chef Brown's lasting impression of her influences from Nobu and Latin American cuisines.
We ended with the Café Phin Parfait, featuring espresso and dulcey, paying homage to traditional coffee. A fantastic way to end a great meal Inspired by Vietnamese coffee served with espresso sponge, coffee cream, caramelised kinako white chocolate, crème fraiche sauce. It is then finished with vanilla tuile
VERDICT: Overall, Lo Quay's "Discovery" menu is a culinary adventure that bridges traditional flavours with global gastronomic influences, all deeply inspired by Chef Brown's culinary journey. It's a restaurant that deserves a place on your list for special occasions or indulgent treats. In addition to the "Discovery" menu, we opted for a wine pairing to complement the experience (the menu is priced at S$138++, and the wine pairing is available for S$98++).
88 Amoy St, 069907. lo-quay.com