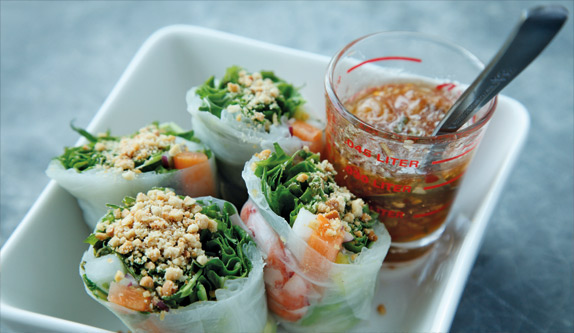 Kilo at PACT, 181 Orchard Rd, Orchard Central, Tel 6884 7560, www.visitpact.com
Set on the second level of Orchard Central is a new one-of-a-kind, welcome addition named PACT. PACT has arrived as a hip collaboration consisting of a restaurant/bar from the folks behind Kilo restaurant, trendsetter men's boutique K.I.N and hair salon PACT + LIM. This all takes place is a light, breezy, industrial style space with cool concrete, metal beams and plenty of glass allowing for natural light.
If you can draw yourself away from the goodies on the huge wooden table display at K.I.N, it's time to pull up a seat at Kilo. Choose between sitting at a long bar, or at lower tables, looking out over the hip interior and its inhabitants.
The menu includes a fresh fusion of Vietnamese and Japanese, plus some favorites from the original Kilo by the Kallang River. Whilst the selection is not large, it is diverse with fresh, zesty flavours and multiple textures in every dish.
We started our meal with the Prawn Summer Rolls and an old Kilo favourite, the Avocado Wasabi Tuna Tartare. The rice paper rolls are generously filled with rocket, carrot, avocado and mint, then topped with some ground peanut plus some freshly made sweet chilli sauce on the side. The avocado and tuna is as good as always with fresh ingredients and a slight wasabi kick. These dishes definitely set the scene for the rest of the meal: fresh produce, simple, balanced and oh-so delicious.
Moving onto the second courses we try the Spicy Pomelo Duck Salad with smoked duck, pomelo and mint served on a bed of rocket salad with a light, spicy mayonnaise, the perfect fusion combination. To complement the duck we have chosen the Baby Eggplant and a serve of the Salmon and Avocado Sushiro. The semi-deep-fried baby eggplant served with mascarpone cheese, donburi sauce and tempura flakes proves to be the perfect partner for the fresh salmon served with ripe avocado and crisp vegetables, a handful of crunchy soy flax corn chips complete the meal.
There's a short wine, beer and Sake list to complement the diverse flavour combinations on the menu, a Sapporo beer and/or a crisp Sauvignon Blanc proved to be the perfect partners. There is also a selection of pasta and rice bowl dishes for one, or some big plates for sharing, including duck with mash or pork belly with purple mash. This menu is currently being revised and updated, I'm certainly looking forward to see what this creative team has to offer next.
For a touch of boho cool to break up a shopping trip or for relaxed drinks and dinner to linger longer, Kilo at PACT is indeed a welcome addition to the heart of Orchard Road.
This article was originally published in April 2013.