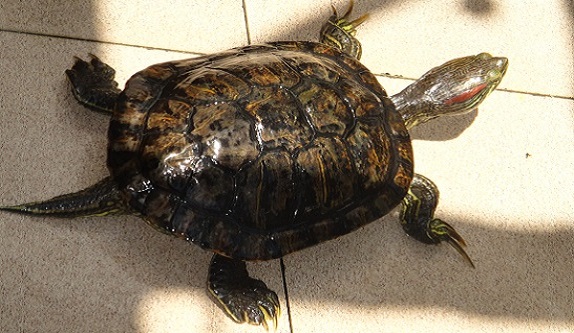 A three-metre albino python, seven large iguanas and several rare star tortoises are just some of the animals housed at an enclosure in north-western Singapore. But this is no zoo – these animals are all victims of the illegal wildlife trade in Singapore.
These exotic creatures live at ACRES, an association which rescues wild animals which have been smuggled to Singapore from Asia and beyond.
ACRES was created in 2001 by a group of Singaporeans to help animals from ill-treatment and the black market. Its mission is to create a world where animals are treated as sentient beings. Their goal is to have a collaborative and sustainable animal protection movement in Asia.
The team there also rescue wild animals such as snakes from residential areas and educate the wider community about animal welfare.
Education is a very important part of what ACRES does, says Louis Ng, ACRES founder and chief executive. There has been a major change in the attitudes of the younger generations of Singaporeans, who are more and more conscious and concerned about their flora and fauna, says Luis.
As Louis says, "we are their guardians and it is our moral responsibility".
It's happening at a government level, too. In July, the minister for law and foreign affairs, Mr K Shanmugam will take feedback from any people in Singapore who are concerned about wildlife welfare to see how they can progress together.
If some people are making efforts, unfortunately smuggling is a reality in Singapore. Even the Convention on International Trade in Endangered Species of Wild Fauna and Flora, which ensures trade does not threaten wildlife species which are in extinction, Singapore is one of the biggest hubs of illegal wildlife trade in Asia.
To spread the word, ACRES relies heavily on social media, mainly Facebook. But they also use face-to-face interaction to make people realise the danger for animals. ACRES doesn't have a lot of volunteers to help them, and are calling for people in the community to help out.
Anyone can help ACRES by being a volunteer, building enclosures for the animals on weekends, cleaning cages and looking after the animals. People can also help the association by making donations, coming to their events or just talk to people about ACRES and what their jobs consist of.
ACRES' workers also try to expand the association where it can have a bigger impact. They already work in Laos, Thailand, and Malaysia, and are trying to get established in Indonesia. Nevertheless, their first target is Singapore because other countries in Southeast Asia take Singapore's lead.
This article was originally published in August 2013.
INFO
ACRES Wildlife Rescue Centre (AWRC) 91 Jalan Lekar Singapore 698917