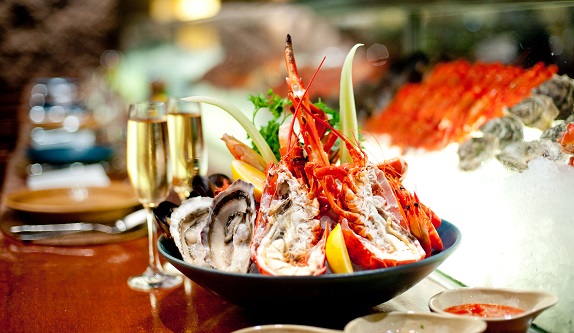 Unlimited fresh oysters accompanied by unlimited champagne.
If this sounds like indulgence or even decadence, then it sounds like brunch in Singapore. Every Sunday across the Island, hotels and restaurants offer an afternoon of endless and delightful eating and drinking for a set price. I've heard of Sentosa Island's champagne brunches and eaten at the famous Fullerton Hotel's Easter Sunday brunch. So when I was invited to Mezza9 at the Hyatt on Scotts Road I jumped at the opportunity. I had guests from Sydney in town and brunch is ultra festive if you get a group together. I thought it a wonderful opportunity for my guests to participate in brunch culture.
The dress code at Mezza9 is smart casual – long pants and a collared shirt for guys and smart wear for women. We saw lots of cocktail dresses, heels and tailored pants. Bookings are essential. Being prompt is too. Mezza9 brunch runs from 11.30am to 3pm and when we turned up at 11.34am, the restaurant, which seats 400, was already at capacity with frosted glasses of champagne filled to the brim in front of every diner. Our group of eight were placed near the English breakfast buffet so we walked past laden trays of eggs Benedict, bacon, and fried potatoes.
My friend advised that at $138++ this brunch is excellent value for money if you love oysters. After our first glass of champagne we headed directly to the seafood section where you could fill your plate with good size fresh oysters, served with lemon wedges or red wine vinegar and shallots, lobster tails, and giant prawns. Others at our table made a beeline for the sashimi bar and loaded up on fresh tuna, salmon, other fish, sushi, sweet omelette, red fish roe, wasabi and pink pickled ginger. The men at our table enjoyed several types of traditional roasts with all the trimmings, even including French fries, (which were hot and crisp on the outside and fluffy white in the middle), while I went for seconds at the tempura section. There are 9 different dining options in all so check them all out before you start.
From the dessert bar I chose cheesecake which was to die for, sweet, rich and dense. I also tried a very rich chocolate pie that I rate the best I have ever tasted. It was a good combination of creaminess, dark chocolate and sweetness but not too sweet. My guests chose the panna cotta and some small pastries. We all helped ourselves to the salted caramel buttons on the top counter. Yum. There was also, naturally, a chocolate fountain with a variety of fruit and marshmallows.
The champagne was free flow, cold and constantly topped up. Those that prefer beer or wine can have that too. I noticed a couple of mojitos on our table as well.
Like the website advises, last pour is at 2.45pm and waiters scurry at this time to ensure no-one misses out. I found the service exceptional. This hotel knows what its patrons are looking for and the wait staff is very efficient.
Tip: To do this buffet justice, do as I did and do not eat breakfast first.
Sue Mannering is an ANZA member who contributes to the ANZA Guide to Singapore and the ANZA Magazine. She also the author of the Singapore Food Diaries blog.