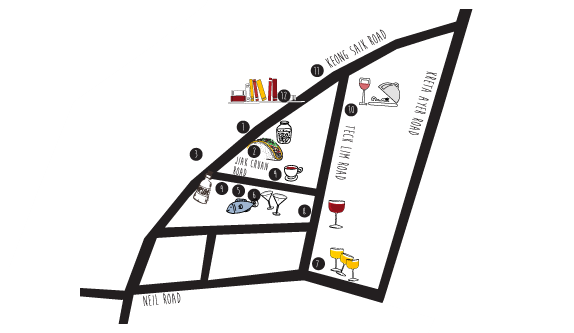 This Chinatown neighbourhood used to be a prominent red-light district, but in the past few years, handfuls of fantastic bars, restaurants and cafes have sprouted up all over the neighbourhood – from spectacular cocktails to authentic Carribbean fare, and everything in between. Check out ANZA's top picks.
1 Taratata Bistrot
35A Keong Saik Rd
Tel 6221 4506
taratata.sg
Owned by French chefs Philippe Nouzillat and Bertrand Raguin, this bistro serves excellent, authentic fare. The service can be very good too, and the black-and-white-tile décor with red leather recreates a Parisian dining experience. Esquina Tapas Bar
16 Jiak Chuan Rd
Tel 6222 1616
2 Muchachos
22 Keong Saik Rd
Tel 6220 0458
muchachos.sg
Muchachos has some of the best-value Mexican food you'll find in the Lion City – the burritos are very large, very tasty and very reasonably priced (at around $12). The venue's cool, too – think industrial black-and-white décor with exposed light bulbs.
3 Bartini
21 Keong Saik Rd
www.bartini.com.sg
This new addition to the street is the third iteration of the original Club Street bar. Formerly the Restrospective, you can expect top-quality cocktails and a good party vibe.
4 Lime House
2 Jiak Chuan Rd
limehouse.asia
Tel 6222 3130
Laid back, with a Carribbean vibe, Lime House has top-notch service and their Wednesday night 3-for-1 rum punch deal is hard to beat. Their menu also features favourites such as traditional Jamaican Jerk Chicken.
5 Mariko's
4 Jiak Chuan Rd
Tel 6221 8262
marikos.com.sg
This Japanese restaurant is named after a fictional streetwalker, with minimalist styling and a well-priced menu – with interesting items such as Octopus Carpaccio and Miso Cod.
6 The Cufflink Club
6 Jiak Chuan Rd
Tel 9694 9623
thecufflinkclub.com
A very slick cocktail bar, albeit fairly laddish (Hemingway fans will feel right at home). It's not uncommon for the dance floor to get busy later in the evening. Watch your wallet – the drinks can get expensive.
7 Tantric
78 Neil Rd
Tel 6423 9232
Good for a girl's night out, Tantric has an awesome beer garden at the front which is usually jam-packed, giving the venue a house-party feel. An added bonus: they offer double house pours for $10.
8 Esquina
esquina.com.sg
Esquina started the ball rolling in Keong Saik, the first of its kind to open in the area back in December 2011. Created by Michelin-starred chef Jason Atherton, this small restaurant isn't cheap but has excellent food (not just tapas) and a great atmosphere.
9 Oriole Coffee Roasters
10 Jiak Chuan Rd
Tel 6224 8131
oriolecoffee.com
The coffee here is really good – up to the standard you'd see in Melbourne or Wellington. The décor features a funky arrangement of hanging light globes, and budding baristas can take coffee classes upstairs.
10 Burnt Ends
20 Teck Lim Rd, Singapore
Tel 6224 3933
burntends.com.sg
It's best to arrive at this East-meets-West bar and grill early for a front-row seat. A long counter seats 17 diners shoulder-to-shoulder and almost face-to-face with the chefs as they do their thing – their huge kilns are something to marvel at, too.
11 Keong Saik Snacks
CLOSED
49 Keong Saik Rd
Tel 6223 0660
keongsaiksnacks.com
Another in Chef Atherton's stable, this small intimate venue has amazing food and delightful wait staff. It's more affordable than Esquina, and don't be misled by the name – you can get proper sit-down meals here, paired with good wines.
12 The Library
47 Keong Saik Rd
Tel 6221 8338
From the outside, The Library looks like an innocuous glass-fronted room with a bookshelf at one end. But tell the bookkeeper the secret password (get it from Keong Saik Snacks) and you enter the bar – a dimly-lit speakeasy with some truly imaginative and spectacular cocktails.