For anybody looking to cool down with a splash in Singapore's warm climate we feature two prominent water theme parks, both of which are suitable for young families as kids can tag along with parents for some thrills. Singapore also has a great range of public swimming complexes, some of which feature slides and water play zones.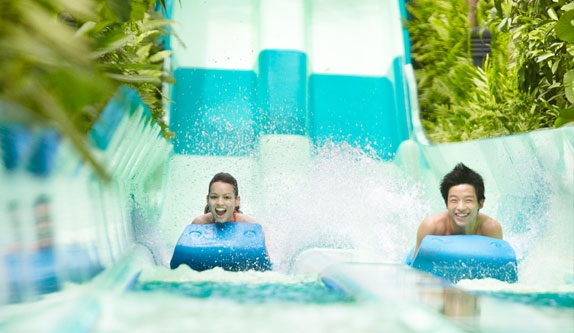 WaterParks
Adventure Cove Waterpark Sentosa
Sentosa's Adventure Cove is Singapore's upmarket water park with an entry price to match. It features a wave pool, a dazzling snorkel reef, six fabulous water slides, a lazy river with marine life behind glass viewing panels and at extra cost, immersive marine encounters with rays, sharks and dolphins. Life jackets and tubes are supplied free of cost.
Lockers are available independently at the entrance for $10 (small) or $20 (large) and are accessible for the whole day, however they can be a good walk from the rides.
If money is not an issue, the express pass is $10 or $20 extra depending whether or not entry is at peak time of year which is specified on line. The pass gives one time access to the Riptide and Rainbow Reef (snorkelling) but unlimited access to all others rides or activities.
An alternative is to buy tickets on line (print out at home), arrive early and firstly target Riptide and Rainbow Reef.
Also available are centrally located cabanas at $68 which come with two towels and drinking water.
For food and beverage options the park has its own range of food stalls and restaurants.
Daily 10am – 6pm
$36 / Adult $26 / Child (4-12 years) $26 / Senior
Height requirements of 1.7 & 1.22m apply and are listed on the website for each ride.
Specific directions are listed on website.
Resorts World Sentosa
6577 8888 | rwsentosa.com
Wild Wild Wet
Wild Wild Wet is a commercial water theme park with a local, almost retro flavour. Consequently it is more costly than the public swimming complexes run by Singapore Sports Council but there are MORE rides. It has a lazy river with floats, a variety of great slides, highlights are The Waterworks, Ular-lah and Slide Up, a wave pool and a good sized engaging toddler area. Lockers are $2 or $3 dependent on size and (take note) this cost is for single access. Life jackets and tubes are supplied free of cost. NTUC card gives entry discount.
There is a variety of eateries both onsite and just outside ranging from hawker stalls to Mcdonalds. Staff give a pass to leave and re-enter the park.
Amenities can get very crowded – expect to wait for some time, for the ladies' shower area.
Also pathways and floor areas around the park can be a tad rough under foot.

Mon, Wed – Fri 1.00-7.00pm (closed Tuesdays)
Weekends / Singapore School Holidays / Gazetted Public Hols 10.00am – 7.00pm
$60 / Family of 4 Child $14 / Adult $19
Minimum height requirement of 1.2m applies for rides.
1 Pasir Ris Close
6581 9128 | wildwildwet.com

Public Swimming Pools

Singapore's public pools generally have great amenities with some having slides and whirpools. The ones we've listed are all very modern with 50m lap pools, water slides and toddler and training pools. Change facilities and lockers (at a small cost) are also provided.
Minimum height requirements of 1.2m generally apply for the slides.
For a full list of Singapore's swimming complexes visit singaporeswimming.com.sg
Sengkang Swimming Complex
Located by the Sengkang river in the midst of one of Singapores newest estates is its best and largest swimming complex. Though a bit further from the city centre Sengkang swimming complex is acessible by MRT to Sengkang plus another small leg of light rail to Farmway then a five min walk.
Within the complex is a 50m competition pool, two teaching pools a toddlers fun pool, a jacuzzi, and eight good slides. The slides aren't of the standard of Wild Wild Wet but at $2 FOR ENTRY?? is unbeatable value for kids' entertainment.
Weekends Adult / $2 Child / $1 (weekdays cheaper rate)
Daily 8.00am – 9.30pm. (Mon closed)
57 Anchorvale Road | 6315 3574

Jurong East Swimming Complex
This is also one of Singapore's best and largest swimming complexes with a 50m competition pool, a wave pool, a lazy river, three water slides, a jacuzzi, spraying fountain and a toddler 'fun station' pool. Kids have a fun-filled time here and once again though it is not Wild Wild Wet, it is certainly a bargain and well worth a visit.
Weekends Adult / $2 Child / $1 (weekdays cheaper rate)
Daily 8.00am – 9.30pm. (Mon closed)
21 Jurong East Street 31 | 6896 3566

Jurong West Swimming Complex
Quieter than Jurong East Swimming Complex, it is still great for families. There is a sheltered 50m lap pool, a teaching pool, a lazy river, a Jacuzzi, a toddler pool spraying fountain and a slide. The complex is unusual for the fact of having two 50m pools, one of which is sheltered. This means that there is still shelter for spectators and swimmers on a rainy day.
Weekends Adult / $2 Child / $1 (weekdays cheaper rate)
Daily 8.00am – 9.30pm. (Tues closed)
20 Jurong West St 93 | 6515 5332

Choa Chu Kang Swimming Complex
This newish complex has it all including a 50m lap pool, wave pool, waterslide, lazy river, spa and whirpool.
Weekends Adult / $2 Child / $1
Daily 8.00am – 9.30pm. (Mon closed)
1 Choa Chu Kang St 53 | 6767 8606
Important things to bear in mind…
LIghtning Alerts: Singapore has one of the highest rates of lightning activity in the world. Lying near the equator, the weather is hot and humid almost all year round. Conditions are favourable for the development of lightning producing thunderstorm clouds. Thunder storms will most often occur in the afternoon between 2-6pm. If the Singapore Meteorological Service signals lightening within a 6-8km radius, a lightening alert siren will sound and the pool will close.

Peak times: At any of Singapore's water parks and swimming pools, weekends, public holidays and school holidays both local and international are peak times.
Avoid the queues and crowds and go early or late if possible.