Melbourne-born percussionist Elvis Aljus is currently touring with Cirque Du Soleil's latest show, Totem, and spoke to us about the physical and mental training – as well as some of the many instruments he gets to play.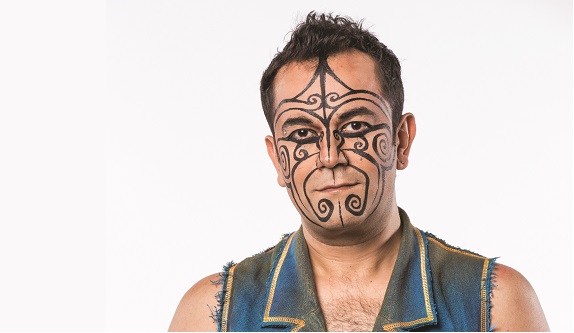 What's it like touring with Totem?
It becomes your life. If you were to ask me 'Would you ever imagine doing 10 gigs a week?', I'd say 'No way!'. I come from a place where I did around four gigs a week. I've played with people like Kate Cerbrano, back in the day with the Black Sorrows, and even those tours were nowhere near as disciplined as these guys are. It was the first thing I had to learn. In Japan alone, it was something like 400 shows in the one year. [Laughs]
How were those first days in the troupe?
The first day I joined Cirque, it was like a bomb. More than 100 staff there, and I think I said hello to the same person five times. [Laughs]
Because you forget, and say 'Did I say hello to this person?', and then you see him again and you say hello. You meet a lot of people, the whole cultural aspect of it is really interesting. I never came from a structure like this. Even though it's artistic and very creative, it's still structured – or else it wouldn't operate.
There must be a lot more theatrics that you need to take into consideration.
Yeah, you definitely need to take it into consideration, but you have to perform it. We had Johnny Depp come backstage in Brisbane – you get to meet some really exciting, very talented people. He was so appreciative of what we did, and we were all appreciative of what he did, which was kind of weird. He said one thing to me: 'When I act, I do it even if I have to do it ten times and then the scene's done, but you guys have to make sure that you do it with all that intensity and everything every single time.'
You must have to be really sharp and alert to match what's going on.
Definitely. At the start, I remember the Musical Director saying 'Can you play that little chime in that part?', and I'm like 'I've never been asked to play a chime in any stage of my career!' [Laughs]
Now if I don't play that chime in that spot, the whole tune misses it. It's like they could be up on the trapeze, or one of the artists would flick their hands, and that is meant to be glittery and twinkly, and if you don't hit it at that spot, it feels like there's nothing connected to that spot and that action. You would really notice it when I wouldn't hit it.
With the opening number, there's a skeleton on stage, and there's frogs and amphibians and things like that. It's very eerie at the start, very mystical. I'll start off with bell trees, some shakers, an udu pot, and an African woodblock to create this ambience. And then I'll go off when the music comes in, I'll start playing the congas – I play four congas there.
When it breaks down to just a solo acrobat doing a high bar, I'll be on bongo because it's a bit smaller – it makes it sound like a bongo solo, being a little thinner. It moves around really quickly. I move around a lot. [Laughs]
Where do you sit?
I don't sit. I'm up the top-left – they have lighting on us and everything. I'm up there with the bass player and one of the vocalists. But I take up more than half that stage with my instruments. I run across from one to another, which is insane because it keeps me fit. I'd be bored if I sat down!
Cirque du Soleil – Totem
$98-$328
28 Oct-11 Nov
Under the Big Top, next to Marina Bay Sands