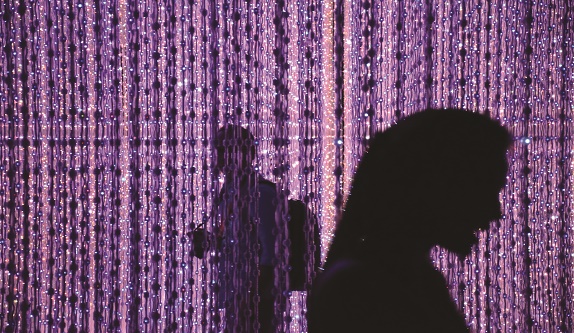 You've been with ArtScience Museum for two years now. What a milestone to share with the new Future World exhibition.
Exactly! I was mentioning to a colleague that the media launch for the i Light two years ago was the very first thing that I did as the Director at ArtScience Museum. I was just amazed being at Marina Bay and just realising the opportunity that we had. And just what's happened in Singapore in the last two years…it's been a big couple of years for the country.
You were able to bring big tech-focused exhibitions to Singapore like Collider and Dreamworks Animation. Was Future World already in the works when you came on board.
No, but there was always an intention to launch a permanent exhibition. That's been in the planning since the beginning of the institution. Thinking about how we would go about doing this, what the content would be, this was all 'to do'. When I joined it was very high on our priority list. The permanent exhibition would have to be permanent, yet changing, which is an interesting concept. The most logical way to approach that challenge is to look at new technology, immersive and interactive digital media, particularly considering this is a museum that doesn't have its own collection.
We wanted to do something that was an embodiment of our purpose as an institution, which is to show that intersection point between art, science and technology. We didn't want to tell that story in a pedagogical way, but to show. TeamLab is the embodiment of that, and it became obvious quite quickly that they were a partner we wanted to work with in a big way.
The interactivity of the exhibition is a big highlight. Tech can sometimes be dull on its own, so interactivity could envoke more of an emotional reaction.
That's very perceptive. The whole philosophy of how TeamLab go about making projects for children is exactly rooted in that analysis. They love technology. Lots of them are technologists, they're mathematicians, they're physicists…however lots of them have children, and they see the distancing effect that technology can have with children. If your child has an iPad or phone, chances are their interaction of the outside world is through the screen. TeamLab have seen the effect that it has in children, and found it really distressing. They wanted to get a way for children to play together, but also to play with their parents.
With such a big project, when did you first get to experience Future World in its entirety?
It's only really been the week of the launch that it's really stated to operate as an exhibition. Up until then it was a building site – hard hats, cranes, lifters, putting down carpet. It wasn't until the last two days that we were able to walk through the show and go 'Wow, there it is. We did it.' It's a pretty amazing experience.
Which of the 15 installations was the hardest to put up?
The one that has been the logistical challenge, and we always knew it would be, was Crystal Universe. This is 170,000 individual LED lights that have to be hung in exactly the right position because they've all been individually programmed. It's a gigantic 3D screen, and every light is a pixel – but they're not pixels, they're physical objects that need to be hung. To put up and program 170,000 different lights is a challenge.
Future World is currently running at ArtScience Museum. Go to marinabaysands.com/museum.html for more information.