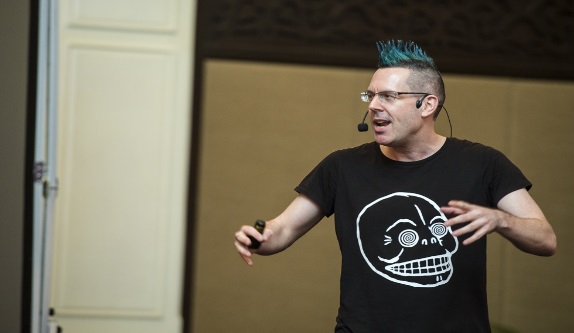 The ANZA team recently asked Chris for his insights into LinkedIn and other social media for professionals. Here is what he had to say:
Why (and when) did you start using LinkedIn as a professional tool? Did you always envision it would become your business?
When I first came to Asia I didn't know anyone, so I started using LinkedIn and my then 250 UK connections to connect with people in Singapore. This was eight years ago, when there were only 10 million people on LinkedIn in Asia, now there are 110 million professionals in Asia on it – and I have 55,000 connections.
I got my first, unadvertised job through LinkedIn, then my second, merely by connecting and networking through LinkedIn. Then I started using LinkedIn across the whole of Asia Pacific for business development, and started winning clients in China and Australia, Indonesia and India, Japan and Hong Kong – all through LinkedIn.
I knew there was a business there as an entrepreneur when people started asking to train them on it, and started asking me to take over their profiles. As soon as I started reaching out to people proactively, I knew I had untapped even more hidden potential.
If you do nothing else, what should you do to your LinkedIn profile today?
Change your photo, your headline, your background picture and your summary – all free, all easy to do and then you can start sharing. Simple!
There has been some criticism of late that LinkedIn is becoming too much like Facebook with inappropriate and personal posts. Does this affect your LinkedIn strategies? Should someone's personal profile be different from their professional one?
Completely different. One is professional, and in a business context; LinkedIn. One is like pitching to someone with their family on a Sunday when they're having a few drinks and relaxing; Facebook. Totally inappropriate, hence why you'll never find me on Facebook! When you post on LinkedIn, when you comment, when you share, you are doing so representing your personal brand and your company brand. Think twice before posting. On Facebook, no one knows who you work for and it's in a family and friends context.
There is very little Facebook-type content on LinkedIn, and you can control your content feed. I always let LinkedIn know and unfollow that person if they start sharing things about weddings, or dead and dying people or personal things unrelated to LinkedIn or business. If your business is weddings, dead and dying people and personal things, by all means share, but do it in a framed business context. I'm connected to you in a business context, not a personal one. It may of course be both. Many people who I am connected to on LinkedIn started as business associates and are now also friends, but it's business first and foremost on LinkedIn.

How does personal interactions and network compete or complement LinkedIn networking?
It's all controlled and managed through and from LinkedIn. Of course I see LinkedIn as a catalyst to meet people in real life all over the world, in person or Skype, but the relationship is maintained and accentuated through LinkedIn.

What should attendees to Chill, Chat, Connect expect to hear from you on LinkedIn strategies and networking?
An entertaining, thought-provoking, energetic and funny evening that they can take away actual real life experiences of what to do – and what not to do – on LinkedIn to achieve their personal and company business and professional objectives. My shows are the highest rated wherever I do them. Come along and you'll be inspired, amazed and go away smiling too.
Register Now!