TUCKERBOX COLUMNIST: Raelene Tan talks to Mr. Bruce Gosper, the Australian High Commissioner for Singapore on his top tastes.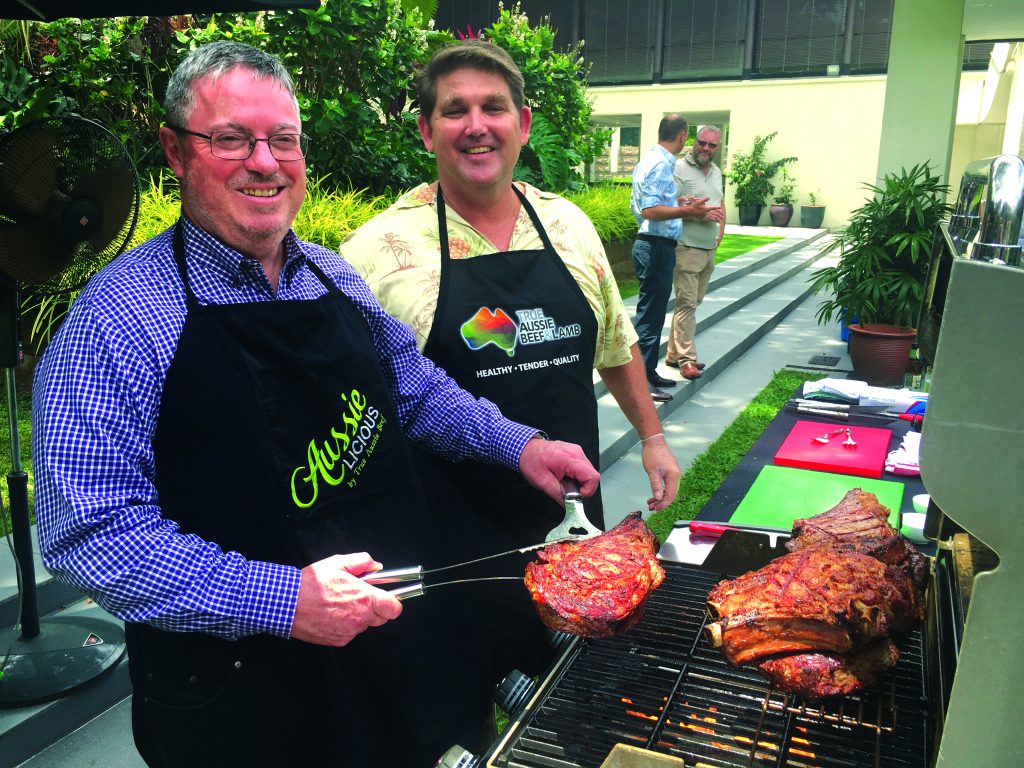 Mr. Bruce Gosper, the Australian High Commissioner to Singapore, and his wife Margaret, have resided in Singapore since December 2016. They have three adult sons, James, Tom and Will, who all reside in Australia. Originally from Parramatta, Sydney, Mr. Gosper previously served in Japan, the United States and Switzerland.
The High Commissioner mentioned that his hobbies include, "Rugby (now watching, not playing), gardening and home projects, reading, music, cooking plus building a wine cellar." He shared, "At home, I love to cook steak sandwiches (my specialty), spaghetti amatriciana, as well as lemon chicken with smashed potatoes."
WHAT ARE SOME OF YOUR FAVOURITE FOODS?
Roast lamb and oysters from the shell are hard to pass up. Also, freshly caught grilled fish paired with a Hunter Valley Semillon. After a hard day, a kebab or pad thai late in the evening is perfect. But best of all is my Dad's barbeque steak in his secret marinade sauce!
ANY MEMORABLE FOOD EXPERIENCES YOU HAVE WORLDWIDE?
Eating southern bluefin tuna sashimi at 6am at Tsukiji Market, Tokyo was a memorable experience, as was eating soft shell crab on the shores of Chesapeake Bay, the largest estuary in North America. Spicy Tex-Mex food in Durango, Colorado, near the New Mexico border, brings happy memories. Tender schnitzel and crisp rosti in Switzerland's Zurich was a great way to beat the winter cold. Also, eating shirouo (small live fish) in Fukuoka on Japan's southern island of Kyushu, while the fish do the odorigui (dancing in the mouth) – my tip: swallow, don't chew! Last but not least, fish and chips in newspaper on virtually any Aussie beach, is hard to beat.
Special places to eat that I've enjoyed include The Inn at Little Washington for pan-roasted duck breast; Tetsuyas in Sydney for wonderful ocean trout confit; and Burnt Ends here in Singapore for the aged beef, the beef marmalade, leeks and eggplant, which are all fantastic.
PLACES YOU ENJOY IN SINGAPORE?
Some favourite dishes are nasi padang with beef rendang, wanton mee, murtabak, char kway teow and chai tow kway.
Hawker centres attract, especially Adam Road Food Centre for nasi lemak and Newton Food Centre for orh luak [oyster omelette]. Margaret and I like National Kitchen by Violet Oon; Din Tai Fung outlets for xiao long bao and beef noodle soup; Punjab Grill at Marina Bay Sands and Mag's Wine Kitchen. Also, great Aussie restaurants in Singapore like Burnt Ends in Chinatown; Whitegrass at Chijmes; Salt Grill & Sky Bar at Ion Orchard; Salted and Hung; Cheek By Jowl in the city; and Blackwattle. Try Jim Thompson on Dempsey Hill, or Patara Fine Thai Cuisine in Tanglin Mall for Thai – and the Japanese Ambassador's home for the best Japanese! We do get along to Lau Pa Sat for satay once in a while. And… black pepper crab and a cold Tiger beer at the East Coast, watching the ships at night, is a great way to relax.
Born in Adelaide, Raelene Tan is an etiquette consultant and food and travel writer. She has authored five books and has been a regular guest on radio and television.