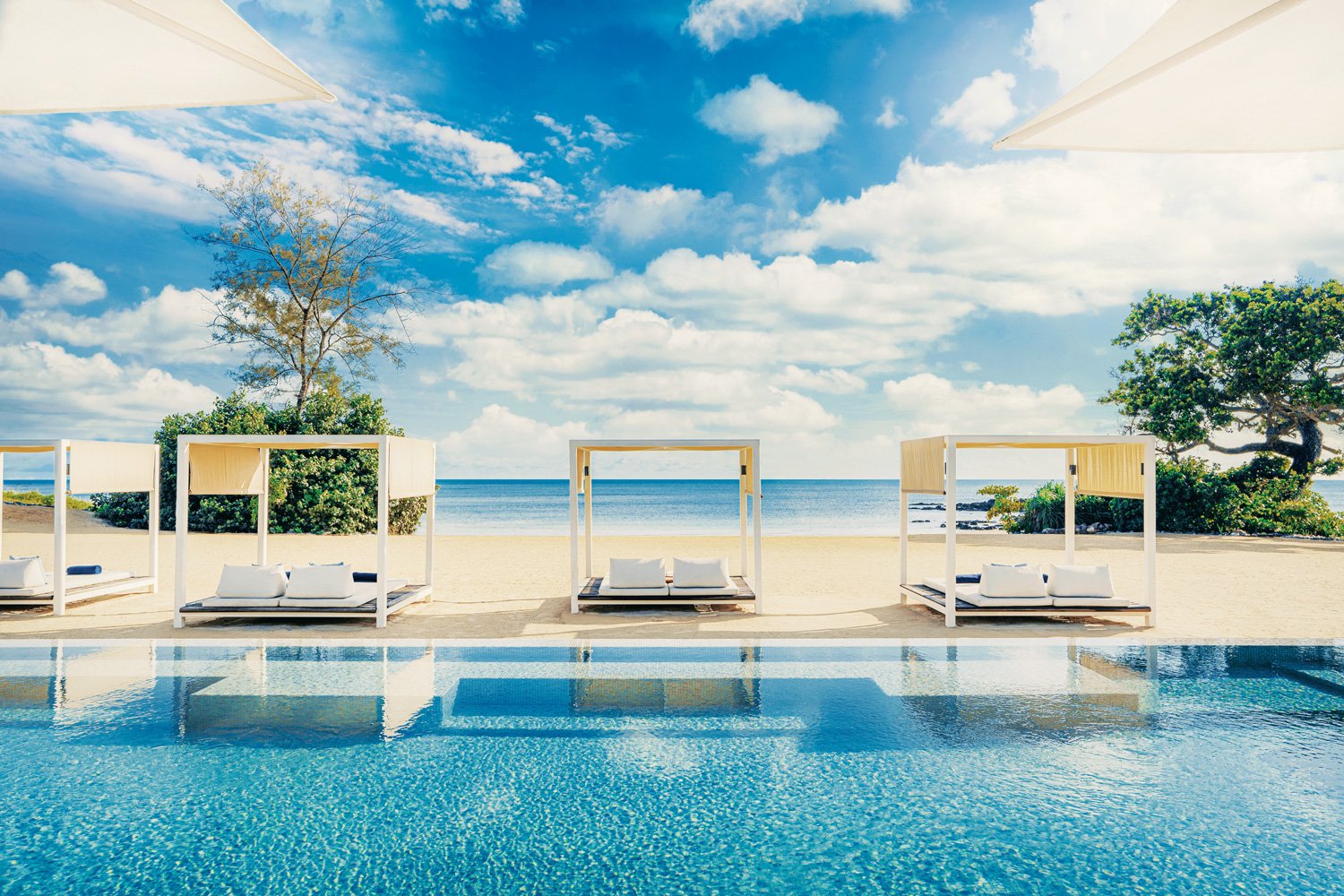 The whispers surfaced in Singapore around 2018 and went like this:
"Have you heard? One & Only is coming to Desaru."
"Wow! Um…where's Desaru?"
Four years, one pandemic, and a $1 billion-dollar reinvention masterplan has finally placed Desaru back on the paradise-map. Located on Malaysia's easy breezy east coast, it was a popular seaside hangout in the 1970s and today it's being revived with a selection of properties pitching up on its golden sands. One & Only Desaru Coast Malaysia provides the high-end glamour.
There are many reasons why it's easy to love this beachfront bolthole from a hotel portfolio which already boasts sister-properties from Montana to Mauritius. For starters, One & Only Desaru Coast Malaysia, the group's first foray into Asia is – like many other new hotels in the region – a mere sniff away from Singapore. Guests can travel from the red dot via the new ferry service from Tanah Merah, but we  recommend the hotel's private car escort which takes two and a half hours in Tesla-shaped transport with nibbles and massage chairs. Reader, I was pummelled all the way across the Causeway and arrived at the hotel completely chilled for evening cocktails.
Stamp of elegance
It's sleek vibes all round upon arrival to the resort which has Kerry Hill Architects' (The Datai Langkawi, Aman resorts) stamp of elegance all over it. Rainforest and ocean-view bedrooms are clad in local merbau wood, with reimagined batik designs and artwork. A beautiful outdoor space with plunge pool sits between the bedroom and bathroom and an indoor veranda extends the sense of space. Ambara, the hotel's main dining room, and Dusky Monkey, the signature bar, offer just as much relaxation with lovely views of the main swimming pool thrown in for good measure. Japanese restaurant Hoshi, with its top-notch omakase menus, provided one of the most artistic and special meals I've ever tasted. There's also a 24-hour library for those who need to work, a kids' club for little ones who want to play, and the tranquil Chenot Spa offering exquisite treatments for those who just want to unwind. 
Away from the facilities are a hotbed of activities. The location lends itself to a myriad of watersports; wakeboarding, kayaking and water skiing are all available. Morning nature walks are a soothing start to the day as the hotel's naturalist introduces guests to a fascinating array of flora and fauna and shares stories of how the locals use flowers and herbs in their beauty treatments and cooking. On dry land, guests can cycle, play table tennis, try techball, or head to the only padel tennis (a cross between tennis and squash) court in Asia. There is also martial arts classes, including Silat lessons, a traditional Malay martial art used for self-defence. I perhaps should not have been wearing a onesie and flip-flops when trying to attempt Silat, but my patient instructor gave me an informative insight into the history of the art and kindly took me through some of the more basic moves.
Seaside luxury
The cherry on the cake at One & Only Desaru Malaysia is Ember Restaurant & Beach Club. Open to the public as well as staying guests, it works as an idyllic destination for long stays and one-day getaways from the Singapore hustle. Set slightly away from the main property on the final spot of sand on the strip, the club comes framed with lush greenery, the soundtrack of rolling waves, and all of the sunset potential. 
Oozing chic seaside luxury, the hip open-air terraced bar overlooks two infinity pools dotted with cabanas that gaze over the hypnotic azure waters. Gentle beats play in the background. A bartender serves you colourful drinks with indigenous fruits and a smile. There's a swish of a Paloma Blue kaftan here, a suggestion of a Melissa Odabash swimsuit there. It's classy, stylish, and fast becoming a place for families, couples and friends to see and be seen. 
Being a beach club, the art of barbecue infused with Asian flavours is the name of the game, and this comes crafted by acclaimed Chef Andrew Walsh – the man behind Cure Singapore. Grilled Prawns feature a refreshing harissa and lemon dressing; Chili Crab Fried Buns are deceptively light and come with a coriander flavouring; Duck Prosciutto, Scamorza, Baby Rocket and 85 Truffle Oil are presented on a woodfired flatbread, bridging the gap between pizza and pita. Charred Baby Gem, Caesar, Nori and 45 Furikake makes for a moreish main of its own. 
Ember Curates: Andrew and Friends kicked off over the summer with Chef Walsh collaborating with Chef Julien Royer of Odette, Singapore for one night only. Plans are afoot to bring together more inventive collaborations with renowned chefs from all over the world, and with outdoor movie screenings, live bands and bar takeovers also in the pipeline, life at One & Only Desaru Coast Malaysia looks destined to just
get better. 
Book Ember Beach Club at sevenrooms.com/reservations/emberbeachclub 
Keep on clubbing
More fabulous hotel beach club escapes
COMO Beach Club, Canggu
From Canggu to Parrot Cay, COMO serves up a beach shack-esque club with a stylish edge at every COMO property. Open all day, fresh, regional ingredients drive the simple approach in the kitchen alongside an authentic wood-fired grill. Remember to book your spot in one of the swing-chairs for prime viewing at sunset. comohotels.com
Nammos, Four Seasons Resort, Dubai
Tucked next to the main entrance of the Four Seasons Resort Dubai at Jumeirah Beach, Nammos Dubai has its own private stretch of sand, terrace and restaurant. Bleached wood, natural linens and pale walls pay tribute to the original club on the Greek isles, and bring a slice of Med to the Middle East. Sink into a white-washed timber chair and hunker down for the day. nammos.gr
Amanzoe
Overlooking Port Helio on Greece's east coast Peloponnese peninsula, Amanzoe is an exclusive and decadent wellness retreat with a serene private Beach Club attached. Situated 10 minutes away from the resort, guests can enjoy four tranquil pools (two for children), expansive terraces and the pick of loungers to relax upon. aman.com